Product
Lightspeed to expand new flagship platform, Lightspeed Restaurant, to power Australian hospitality revival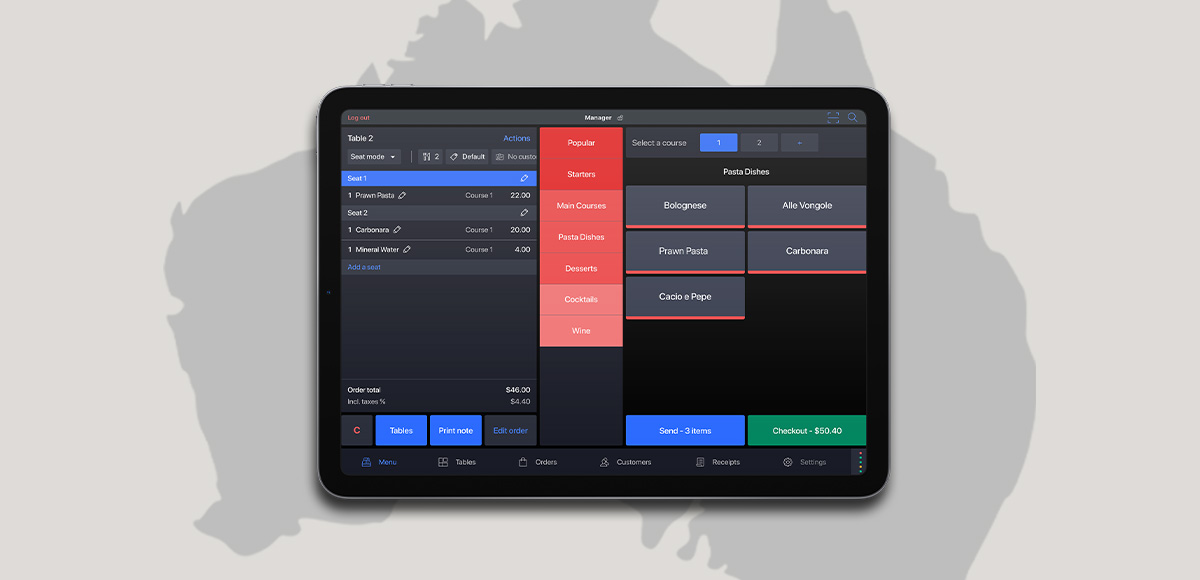 Lightspeed Commerce Inc., the one-stop commerce platform for merchants around the world to simplify, scale, and create exceptional customer experiences, has today announced the initial launch of it's flagship hospitality product, Lightspeed Restaurant in the Australian market – a unified hospitality commerce and point-of-sale (POS) platform to power Australia's restaurant revival.
Unveiling at Fine Food Australia, and coming soon to Australian businesses, Lightspeed Restaurant, an industry-leading cloud platform, combines an innovative POS, contactless integrated payments, online ordering, advanced inventory, industry leading analytics and more; enabling operators to run smarter, more efficient restaurants. The local launch of Lightspeed Restaurant integrates cutting edge technology to build a single product that incorporates the best features of Australian leading Kounta and the breadth and sophistication of Lightspeed's market leading capabilities, and comes as Australia's world-famous dining industry continues to defy economic pressure.
Data from a subset of Australian restaurants, cafes and bars using Lightspeed in July found that year-over-year revenue was up 50.3% in restaurants, 48.5% in bars, and 25.7% in cafes compared to the same month in 2021. Remarkably, July was the sixth successive month of year-over-year growth*. 
Peter Dougherty, General Manager of Hospitality, at Lightspeed, said: "Bringing Lightspeed Restaurant to an Australian market famed for the vibrancy of its hospitality sector is an exciting moment for Lightspeed. Restaurants have rapidly accelerated their digital transformation in recent years, and today merchants can't compromise when it comes to technology. Lightspeed Restaurant allows Australian restaurant owners to take control of seat level ordering, multiple service environments, complex printing setups, and more, all through a single commerce platform – providing the solution they need to meet and exceed the needs of their customers, empower their team and overcome the challenges of today."
Key features of Lightspeed Restaurant include:
Advanced insights

: Lightspeed Restaurant informs operators what turns customers into regulars, who their best wait staff are and why, and makes them feel like they're on the floor every day even across multiple locations.

Comprehensive integrated inventory

: Track and automate inventory without breaking the bank. Know exactly how much product was sold, how much is still on hand, and how much is needed from a supplier for the next order.

Speed and automation for the front of the house:

Optimised by years of user testing, Lightspeed Restaurant is easy to use and train on, key for hiring and retaining staff and running smoother shifts in busy environments. 

Innovative ordering and payments with Order Anywhere

: Fully integrated with Lightspeed Restaurant, Order Anywhere provides contactless ordering and payments for dine-in, and commission-free ordering for takeout, with the flexibility to either pre-pay online or pay at pick up, while avoiding expensive third-party fees. 

Real-time data

: Restaurant owners, chefs and managers receive a daily email detailing everything they need to know before doors open, and a shift prep email detailing reservations, VIP guests, and notes for the service ahead. 
Bluebonnet Barbecue, Melbourne's iconic Texas-style BBQ venue, has been using Lightspeed Restaurant  in the initial launch phase. Bluebonnet's Manager, Mikey Buchanan, said the platform gives the business a competitive advantage and the foundations to overcome challenges and provide better experiences for customers and employees alike.
"We've been looking for a platform like Lightspeed Restaurant for years. The access to real-time insights has given us a deeper, more accurate understanding of our business than we've ever had before. It's incredibly powerful and sophisticated, but also user-friendly, which is so important in a transient industry where staff come and go. 
"Rather than using different systems for different business functions everything is on one system, driving operational efficiencies which benefit our team and, ultimately, our customers. We're passionate about our craft and our customers, and with Lightspeed Restaurant we spend less time working on administration and non-revenue generating tasks and more time delivering the food and experiences that bring people together." 
The initial launch of Lightspeed Restaurant in Australia follows the recent launch of Lightspeed Payments, an integrated, contactless payments processor that gives hospitality and retail businesses the ability to process customer payments directly from their point-of-sale. 
Read the full press release to learn more.
*The anonymised data was collected from the monthly revenue figures and year over year growth of restaurateurs using Lightspeed restaurant products from January 2021 – July 2022.