Product
Lightspeed's newest release of its flagship restaurant platform reimagines how US customers run their front-of-house operations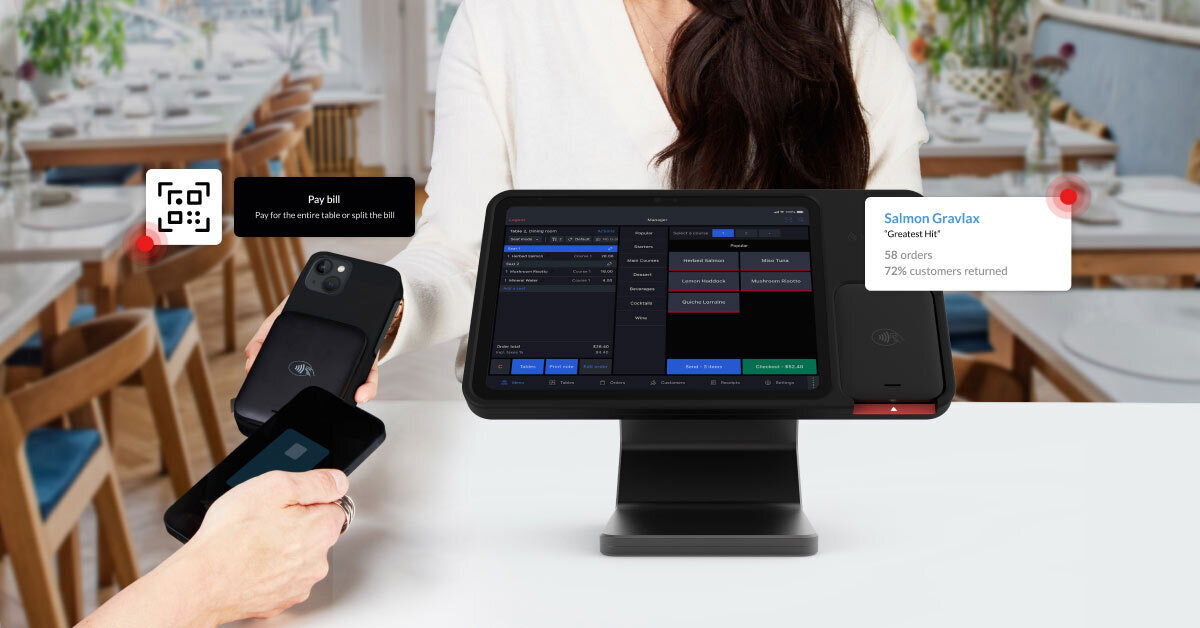 Lightspeed Restaurant now drives more efficiencies in hospitality thanks to streamlined ordering and payments on smartphone devices, Advanced Insights, Intelligent Tip Management, advanced APIs, and robust offline capabilities
Lightspeed Commerce Inc., the one-stop commerce platform for
merchants and restaurateurs around the world announced today the release of the latest version of its powerful restaurant solution: the Next Generation of Lightspeed Restaurant. This update, now available in the United States, revolutionizes restaurant operations by offering faster ordering and payments options on smartphones and by leveraging the power of data.
New functionalities include:
'Pay at Table' – Uniquely designed by Lightspeed, this simplifies group dining with smart
and easy check splitting
'Tap to Pay' on iOS – Increases table turns by transforming every smartphone into a
payment terminal
'Scan and Pay' – Boosts order value by allowing guests to order or close a check themself
Self-serve Capital – Helps restaurants fund their next stage of growth
Tip Management – Builds staff loyalty with great tip management
Enhanced APIs – Gives access to data to customize the Lightspeed experience
Advanced Insights – Unlocks a previously unavailable layer of business intelligence
"We are helping US restaurants reimagine the way they run their front of house operations, not only to improve efficiency but to help drive additional revenue and change the guest experience for the better," says Peter Dougherty, GM of Hospitality at Lightspeed. "Lightspeed is on a mission to radically change the restaurant industry, empowering restaurant operators with real-time insights at their fingertips."
Streamline Ops to Serve Customers Faster
Lightspeed Restaurant helps business owners optimize their time so that they can spend more of it focused on their customers.
The speed of the Lightspeed Restaurant platform means orders from the server to the
back of house staff are on average 40% faster* than the competition.
Improvements to how customers order and pay thanks to the seamless experiences offered with 'Pay at Table', 'Tap to Pay', and 'Scan and Pay' means restaurant operators can say goodbye to unnecessary waiting as guests dine, order, and pay – all from their seat.
Tip Management means that operators can maximize server earnings with intelligent tip
suggestion and reporting.
Enhanced APIs means that external systems can easily integrate into the platform allowing for real-time inventory management.
A strong offline mode ensures business continuity, even without internet connectivity.
Access to Capital
In the current challenging economic environment, restaurant operators are looking for more options to secure funds. Lightspeed Capital is now easier to access thanks to self-serve Capital embedded within the platform. Qualified restaurant owners can now easily get connected to Lightspeed's merchant cash advances via in-app functionalities.
Harnessing the Power of Advanced Insights
Lightspeed Restaurant is an industry-leading, lightning-fast solution that offers comprehensive, data-driven insights to help businesses navigate the complex landscape of restaurant operations.
Exclusive features include:
Server Performance: Empower staff with feedback that improves services and boost
earnings through performance insights.
Menu Performance: Use data to discover the dishes that keep customers coming back by
using a proprietary data matching algorithm to link customer preferences to their profile.
Time Optimization: Make data-backed staffing decisions to drive peak efficiency.
Logbook: Keep a finger on the pulse of restaurant operations, even when you're not there, by automating and connecting restaurant staff together across shifts with a virtual log book.
Read the full press release here.
* Based on internal testing in August 2022 of industry peer check management and other workflows.Lightspeed Restaurant POS requires on average 40% fewer clicks for completing check splitting, discounting and other basic POS workflows than certain industry-leading POS systems in North America. Results outside such internal testing could vary depending on location and other factors