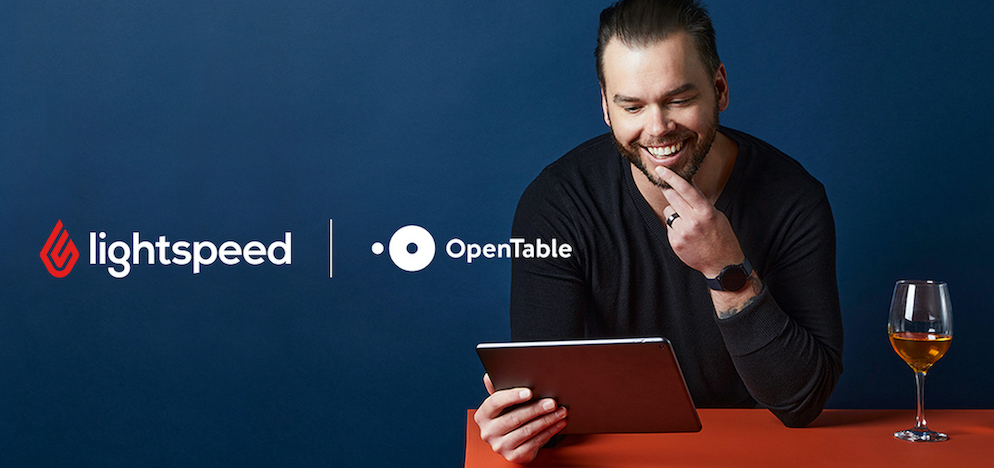 Announcement comes on the heels of Lightspeed's Order Anywhere launch in Europe and the UK

Lightspeed, the one-stop commerce platform for merchants around the world to simplify, scale and provide exceptional customer experiences, has today announced a partnership with one of the world's leading providers of online restaurant reservations, OpenTable. The partnership will see a rich integration between Lightspeed and OpenTable, furnishing restaurants with a suite of tools to streamline service and boost efficiency as they look to recover from the pandemic and provide a safe dining experience as lockdown lifts.
Data from Deutsche Bank and OpenTable suggests the United Kingdom is currently making a "roaring comeback" across all sectors, including the restaurant trade. According to OpenTable data, numbers for seated diners are up on average 42% between the 17th and 23rd of May versus the same days in 2019, as diners return to indoor spaces. As pubs, restaurants, and other hospitality venues reopen their doors to indoor dining, having a powerful reservation solution is critical to managing restaurant capacity, keeping track of guests, and ensuring they adhere to COVID19 safety measures.
"This partnership gives management and staff the ability to provide a VIP experience with every reservation with guest details at their fingertips," said Adrian Valeriano, Managing Director of EMEA, Lightspeed. "OpenTable is the industry leader in the online and mobile reservation space and Lightspeed powers the businesses that are the backbone of the global economy. We're proud to bring more resources like this, and Order Anywhere, to our customers in the United Kingdom to help them elevate hospitality and maintain safety with every reservation."
In early April, OpenTable restaurant bookings were approaching pre-COVID levels (down by only 21% compared to 2019). In Manchester, the seated diner data told an even more encouraging story, as reservations were up 53% from 2019.
As the UK hospitality industry anticipates a busy few months ahead, the partnership between OpenTable and Lightspeed will provide restaurants with timely, unique benefits, including:
Increase table turnaround with up-to-the-second table status, so hosts know the progress of every table in real-time down to the course being experienced.
Turn tables faster and streamline service with automated check creation for every seated reservation.
New guests created in OpenTable are synced to Lightspeed, creating new customer profiles and giving managers deeper insights to better understand their customer base.
Check data from Lightspeed pulls into OpenTable, so that a restaurant can quickly learn more about their guests' favorite menu items and provide more personalized service.
Order Anywhere Delivers on the New Era of Hospitality
With global adoption of takeout and meal delivery, hospitality businesses are looking for solutions to manage and streamline takeout and delivery services. Lightspeed's Order Anywhere is the latest addition to their innovative product suite for the hospitality industry, now available in the United Kingdom, France, and Switzerland. For restaurateurs, Order Anywhere brings all dine-in, takeaway, and online orders together in one dashboard, eliminating the need for expensive marketplace solutions, and allowing contact-free ordering, dining, and payment – anywhere, any time, using any device.
Order Anywhere enhances Lightspeed's hospitality commerce platform into a powerful digital hub where restaurateurs can simplify and easily scale their businesses:
Seamless integration and real-time updates: Accept online orders directly from the Lightspeed system, managing your online, take out and table service orders all in a single location. Send email updates to guests so that they are informed of the status of their order from start to finish.
Effortless and contactless ordering: Offer your guests a wide range of secure and flexible collection and dine-in options, including the ability to order and pay via a QR code at the table, or place an order online for now or later. All this without paying any commission to third parties.
Streamlined Online Experience: Lightspeed Order Anywhere gives users the ability to personalize and customize their website information such as opening hours, cooking times, and pick-up options.
Offer an accessible and feature-rich Digital Menu, including multi-lingual item descriptions and allergen notifications, with accurately described dishes to captivate your guests and increase check size on each order.
For businesses looking to grow, adapt, or become more efficient, Order Anywhere empowers restaurants to offer a personalized, flexible omnichannel experience. Both Order Anywhere and the OpenTable integration are must-have tools for the busy summer ahead in hospitality.
To learn more about the OpenTable partnership, click here. To learn more about Order Anywhere, visit our blog.