Welcome, Snowsports Industries America (SIA) members
From smart inventory management tools to eCommerce, loyalty programs and more, Lightspeed is an all-in-one platform for the future of retail.
Lightspeed and the SIA are working together to get you the right tools you need to run and grow your business. New Lightspeed users can get a free POS hardware kit with an annual subscription (includes a scanner, receipt printers and iPad stand).

Are you a supplier? Join our Supplier Network for free.

I'm a supplier | I'm a retailer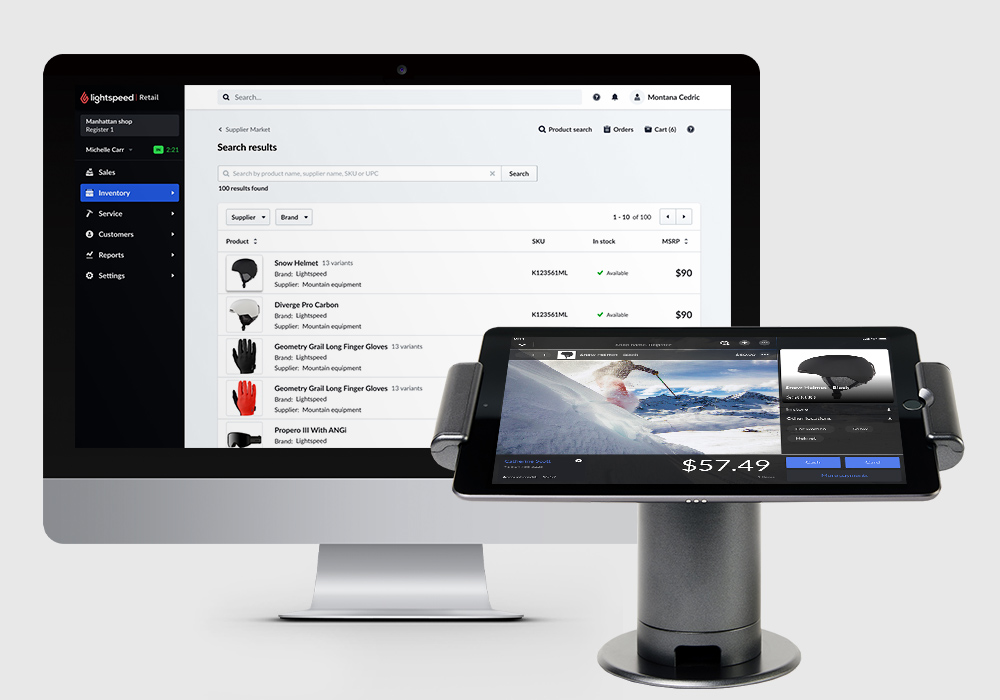 Join our Supplier Network to sell to active snowsports retailers.
Stay ahead of the game and sell directly to active buyers with Lightspeed's built-in catalogs. Get your products in front of thousands of snowsports retailers while retaining control over how your products are presented.
Make it easier for snowsports retailers to find and order from you with organized catalogs
Effortlessly update or edit product specifications anytime
Reduce errors and back-and-forth in accounting, shipping and invoicing
Our Supplier Network fits in with your existing workflow.
Lightspeed's Supplier Market is easy to use for retailers. And joining our Supplier Network is easy to manage for you. Make more sales while using the systems you've already got in place.
Continue using your existing system to manage every order
Easily connect your custom system to our open API
Access our pre-built Shopify, WooCommerce, BigCommerce, EDI, SFTP and API integrations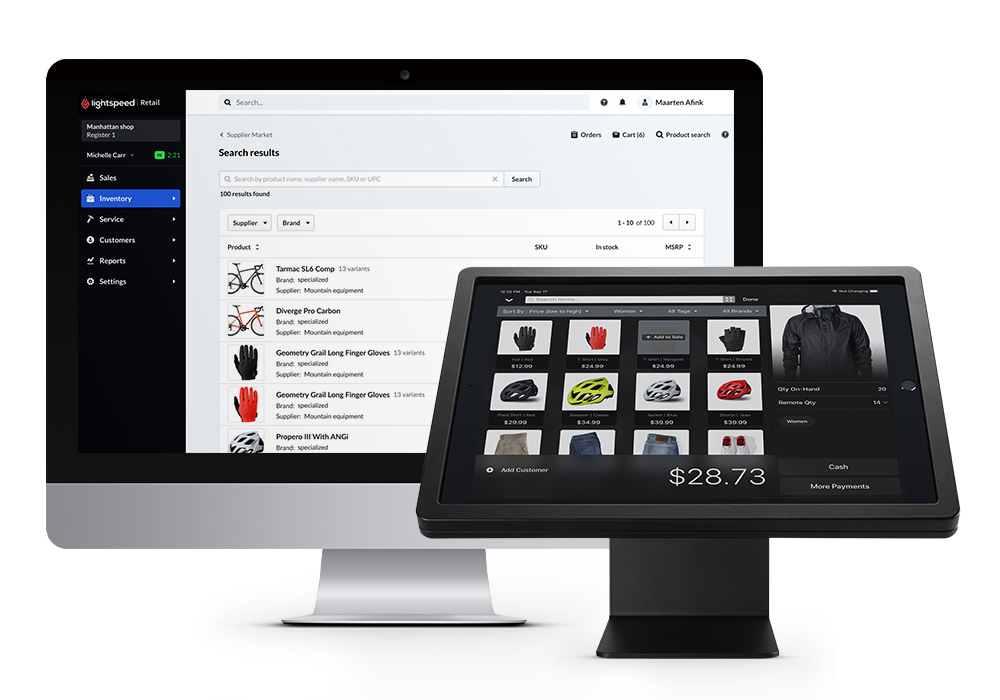 "

Being able to pull up all of the different distributors in one place, instead of having to hunt for different parts from different B2B websites, makes processing work orders and purchase orders and sales very, very easy.

"
Ben Corbin, CycleWorks
Grow your business on an omnichannel POS system built for your success.
Lightspeed Retail's cloud-based POS works on any platform or device, no matter where you are. It's an easy-to-use omnichannel system for snowsports retailers with unparalleled inventory management.
Easily import stock and sync location information from your physical stores to your eCom shop
Track and manage work orders for services like ski waxing, etc.
Manage restocking directly from your POS software with built-in purchase orders
Offer customers curbside pickup with an effortlessly connected omnichannel system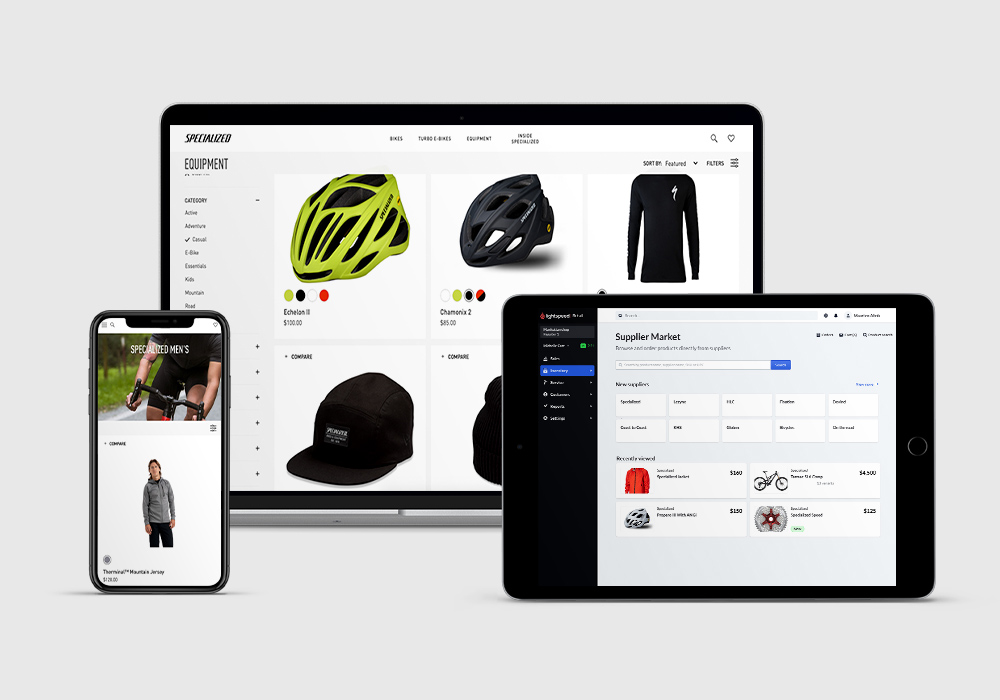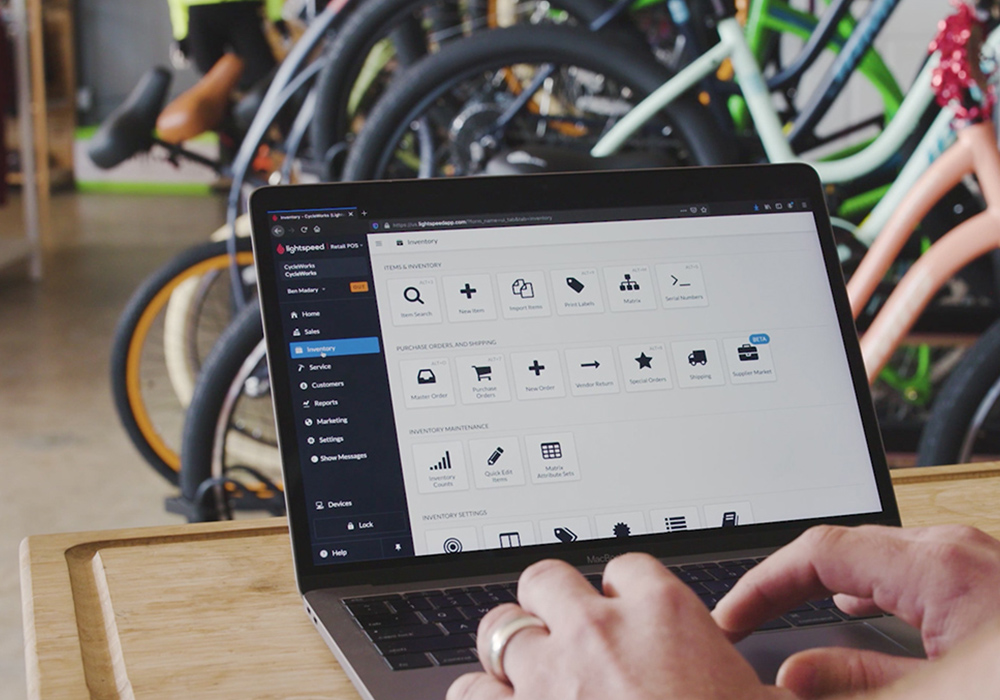 Order directly from industry-leading suppliers in your Lightspeed POS system.
Save time. Save yourself the headache. Lightspeed Supplier Market connects you directly to industry-leading suppliers so you can browse catalogs and make purchase orders without ever leaving your POS.
Discover new products and search by supplier, brand, product, UPC or SKU
Automate purchase order creation—POs are created for you when suppliers ship your order
Import high-quality product images and detailed supplier information into your inventory for easy product setup
Search multiple suppliers and catalogs simultaneously for the products you need
Start with the POS and build up.
Lightspeed eCom
Sell online with an eCommerce platform that automatically synchronizes with your POS.
Lightspeed Payments
Complete transactions and accept payments all at once without ever leaving your POS.
Lightspeed Loyalty
Build lasting relationships with customers with an omnichannel loyalty program and marketing tool.
Lightspeed Analytics
Get reports and in-depth retail analytics to see how your store is doing and how to improve.
Lightspeed Accounting
Automatically post your sales data on a daily basis, save time and reduce errors.
Partner integrations
Boost your POS system with even more tools, from employee scheduling to marketing.
Get equipped with the retail POS built for snowsport stores.
14-day trial. Unlimited access to all features. No credit card required.