Saks Innovates Merchandising Processes with NuORDER by Lightspeed's Cutting-Edge Digital Buying Solutions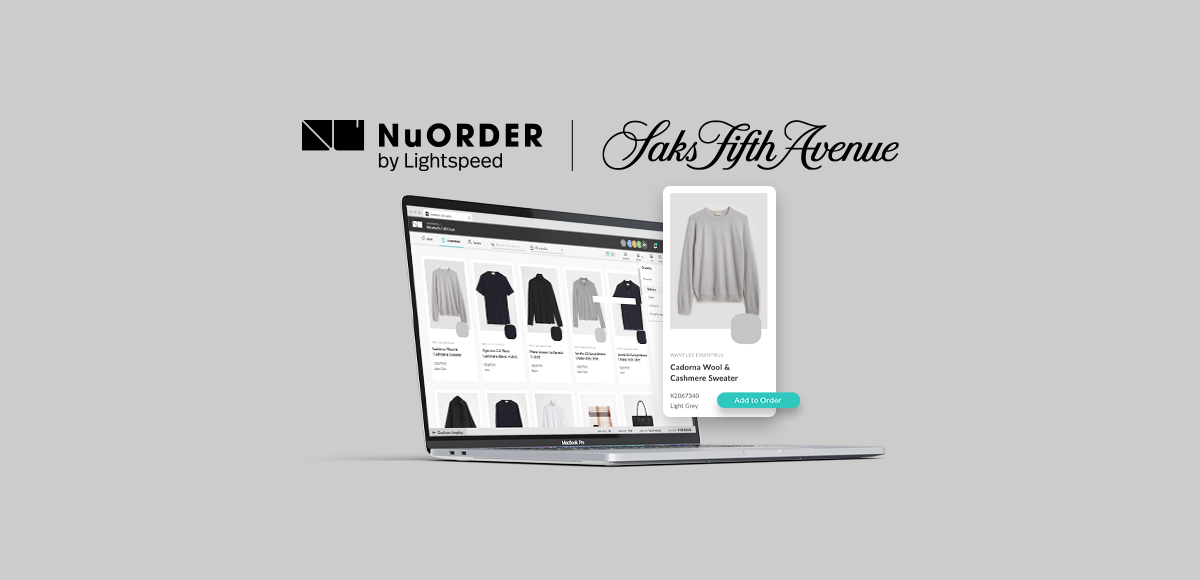 Lightspeed Commerce Inc., the one-stop commerce platform for merchants around the world to simplify, scale and create exceptional customer experiences, is pleased to announce that it has renewed its partnership with Saks, the premier digital platform for luxury fashion, for another four years. The platform has streamlined previously manual processes, slashing time spent on order creation by 50% and reducing time spent on purchase orders and item creation by a remarkable 90%.
Tapping into Exponential Efficiency
By adopting NuORDER by Lightspeed, Saks has modernized how it connects with brands and buyers. This collaboration enables Saks to digitize its buying and merchandising processes, make data-driven decisions and accelerate its go-to-market strategy, improving customer experience. Further, NuORDER by Lightspeed increases assortment visibility and empowers merchant teams to curate buys dynamically.
"At Saks, we are committed to delivering the best of luxury both on Saks.com and in Saks Fifth Avenue stores. NuORDER by Lightspeed has enabled us to unlock new levels of efficiency as we continue to offer an unmatched assortment expertly curated for the lifestyles of the full range of luxury consumers," said Tracy Margolies, Chief Merchandising Officer, Saks. "We look forward to continuing our partnership with NuORDER by Lightspeed and leveraging this innovative technology for the benefit of our customers, brand partners and merchandising team." 
The Power of NuORDER by Lightspeed
The groundbreaking platform allows Saks to visualize and develop assortments in real-time, catering to different markets and offering consumers the most sought-after, high-quality merchandise. The technology also fosters seamless collaboration between marketing and digital teams, ensuring alignment on a single vision for featured items in marketing campaigns.
"We're thrilled to provide essential technology that enhances Saks' ability to buy for their luxury customers with the goal of driving  business growth," said Olivia Skuza, Co-founder of NuORDER and GM, B2B at Lightspeed. "It's been exciting to see the wide-scale adoption by their teams and how deeply it has impacted their business over the last few years."
Saks and NuORDER by Lightspeed look forward to continuing to enhance operational efficiencies and the customer experience over the next four years. For more information about Saks and its partnership with NuORDER by Lightspeed, please visit www.saks.com and www.nuorder.com.
Read the full press release here.