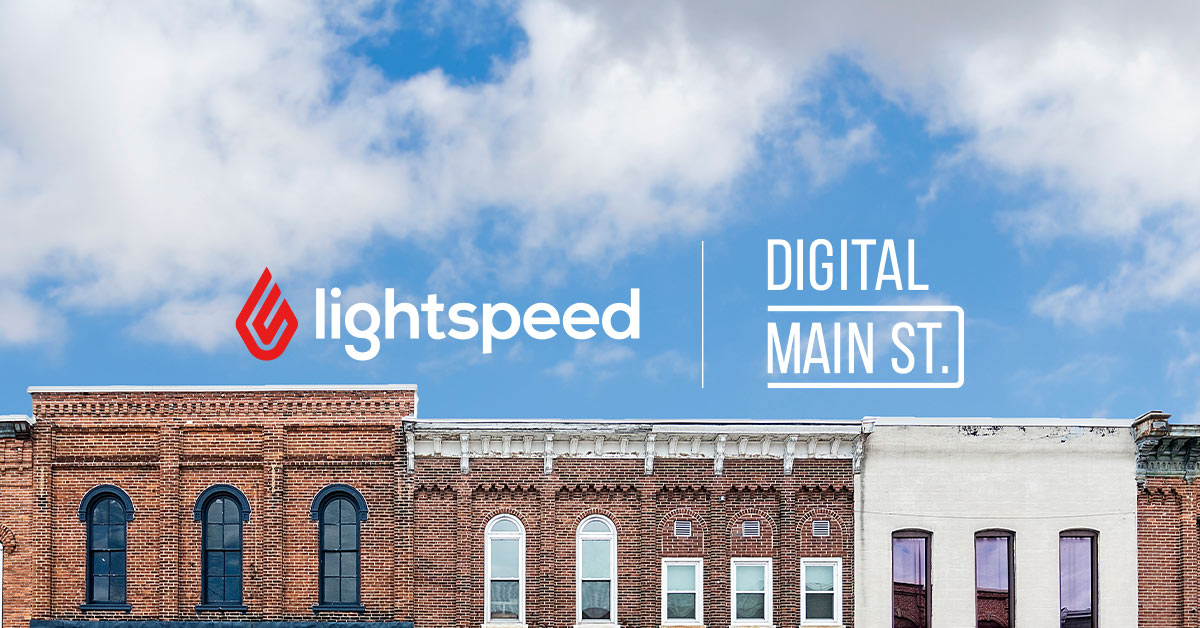 Lightspeed has partnered with Digital Main Street (DMS), a programme created by the Toronto Association of Business Improvement Areas (TABIA) with support by the Federal Government of Canada, Province of Ontario and the City of Toronto.
Through ShopHERE powered by Google, one of the programmes offered by DMS, Lightspeed is helping small and medium-sized businesses (SMBs) access its omnichannel platform and help to provide them with the tools they need to thrive. Lightspeed is also committed to supporting the other Digital Main Street programs and support offerings, joining in the mission of helping as many SMBs grow through the adoption of digital tools and technologies as possible.
"At the heart of every thriving community is a healthy main street. Providing businesses with the right digital tools to adapt and succeed is what Lightspeed does." said Peter Dougherty, Vice-President of Partnerships at Lightspeed. "With DMS, Lightspeed will have a greater opportunity to help SMBs access and benefit from our omnichannel solutions. We remain focused on driving innovation and delivering those democratizing tools, so that we can all come back to a stronger, healthier and more diverse post-pandemic economy."
To be eligible for the ShopHERE program, businesses must be registered in Ontario, and have fewer than 10 full time employees (or fewer than 25 employees if they are a cafe, restaurant, or bar). Additionally, businesses cannot be part of a corporate chain or franchise. 
Cloud-based, omnichannel capacity was once considered a "nice-to-have feature" but with the global COVID-19 pandemic, it has become a "must-have." Necessary not just to remain operational but to capitalize on changing consumer behaviour. Lightspeed's mission for sixteen years has been to future-proof independent businesses by providing them the best in digital platforms and strategies. 
"We are thrilled to welcome Lightspeed to our group of partners in support of Digital Main Street." said John Kiru, Executive Director of the Toronto Association of Business Improvement Areas and founder of DMS. "Now more than ever small business owners across the country need to continue embracing the concept of Digital Transformation not only as part of their recovery but also to thrive in the ever changing consumer landscape. Bringing Lightspeed on board with their focus on omnichannel will be a welcomed addition and support resource for our business community."
Through this partnership Lightspeed and DMS are helping keep SMBs resilient and pushing forward innovation that will future-proof the economy by stimulating economic growth and equipping businesses with the technology to take on any challenge. 
"As local economies continue to deal with the impacts of the pandemic, our government is committed to ensuring that our small- and medium-sized enterprises don't just survive, but thrive," said the Honourable Mélanie Joly, Minister of Economic Development and Official Languages and Minister responsible for the Federal Economic Development Agency for Southern Ontario. "We are proud to support the partnership between Digital Main Street and Lightspeed and look forward to seeing the impact the platform will have on future proofing small businesses in our communities."
DMS is proud of doing its part in the coming recovery and helping resilient merchants continue their drive for success.
To read more, please visit digitalmainstreet.ca/lightspeed-dms