Company
NuORDER by Lightspeed revolutionizes visual merchandising with a new assortment planning solution for brands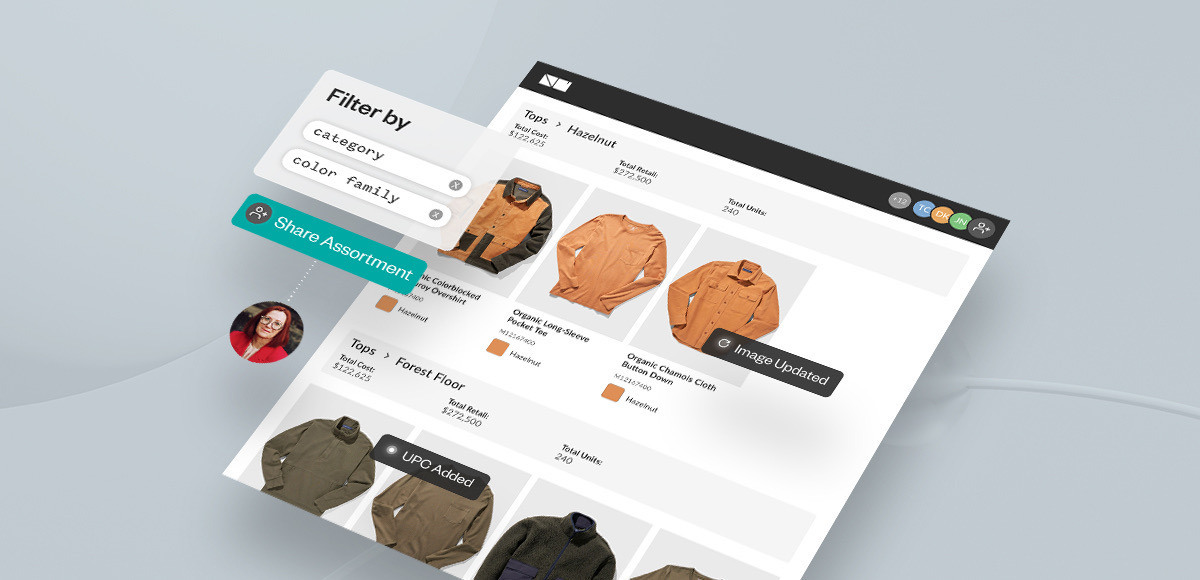 New solution enables brands to upgrade assortment planning with an online platform built to help solve all merchandising needs in a visual, collaborative digital environment
Lightspeed Commerce Inc. launches NuORDER Assortments, a groundbreaking solution that revolutionizes the way brands plan assortments. The cutting-edge technology allows them to visualize, merchandise and plan their assortments—all in one collaborative online environment. NuORDER Assortments gives brands the capability to optimize their assortment to plan for the right mix of products in the right place at the right time. The ability to develop a more localized assortment ensures customers can find what they're looking for, helping reduce markdowns and increase overall margins.
Traditionally, brands struggled to assort their own retail stores due to manual processes and disconnected data systems. These outdated practices result in continuous updates and errors, leading to inefficiencies and wasted resources. NuORDER Assortments allows brands to bid farewell to cumbersome procedures and embrace a streamlined, collaborative online environment that empowers them to visualize, merchandise, and plan assortments across multiple storefronts more effectively. 
"Our new assortment planning solution is a gamechanger for brands," said Heath Wells, General Manager, B2B at Lightspeed. "Enabling them to visualize what each store assortment will look like, combined with the ability to slice and dice data  by any product attribute to make more informed decisions, is really something that's never been done before. NuORDER Assortments empowers brands that own and operate multiple retail locations to optimize their inventory allocation, identify merchandising gaps, and make more informed decisions—all in one unified platform. This technology has been successfully utilized by our esteemed retail partners, including Nordstrom, Saks, and Macy's, and we're excited to bring its benefits directly to brands themselves."
NuORDER Assortments offers tangible benefits to brands that own and operate their own retail locations, streamlining the pre-season assortment planning process and leading to significant time savings. Early adopters of the solution have reported a 55% reduction in time spent on fixing errors, a 40% reduction in time spent on sizing, and an impressive 60% reduction in time spent on manual data entry.
"Implementing NuORDER Assortments meant more accurate roll ups and a clear process to write smarter buys," said Stephanie Gin, Director of Buying, Brunello Cucinelli. "We now get an immediate visual of the assortment thus making it much easier to analyze and review. The tool has improved collaboration between the merchandising and planning teams, they are now able to analyze and pull live data  throughout the writing process. The tool has replaced all manual processes and has become essential to our buying process."
Key features will enable brands to:
Identify & Fill Merchandising Gaps: Conduct visual style-outs with increased visibility. Roll-up and review plans by store or any product attribute.

Improve Internal Collaboration: Buying, planning, and allocation teams can share and edit assortments in real-time. 

Streamline Product Allocation: Use pre-set size curves and bulk distribution to more accurately allocate products across stores.

Boost Productivity: Spend less time on manual data entry.  Robust ERP and backend integrations feed up-to-date product data into the platform.
"We are thrilled to introduce NuORDER Assortments to the market," added Wells . "To date, the NuORDER by Lightspeed product offering has focused on developing innovative technology to streamline the wholesale buying and selling process. NuORDER Assortments is our first direct to consumer solution, expanding our product offering to revolutionize the way brands merchandise their own stores. Now, brands can transform their planning process, gain valuable insights, and drive more efficient and profitable assortments."
Read the full press release here.