Company
NuORDER by Lightspeed Announces New Partnership with The Bay, and Success with Bloomingdale's and Grassroots Outdoor Alliance Buyer Experience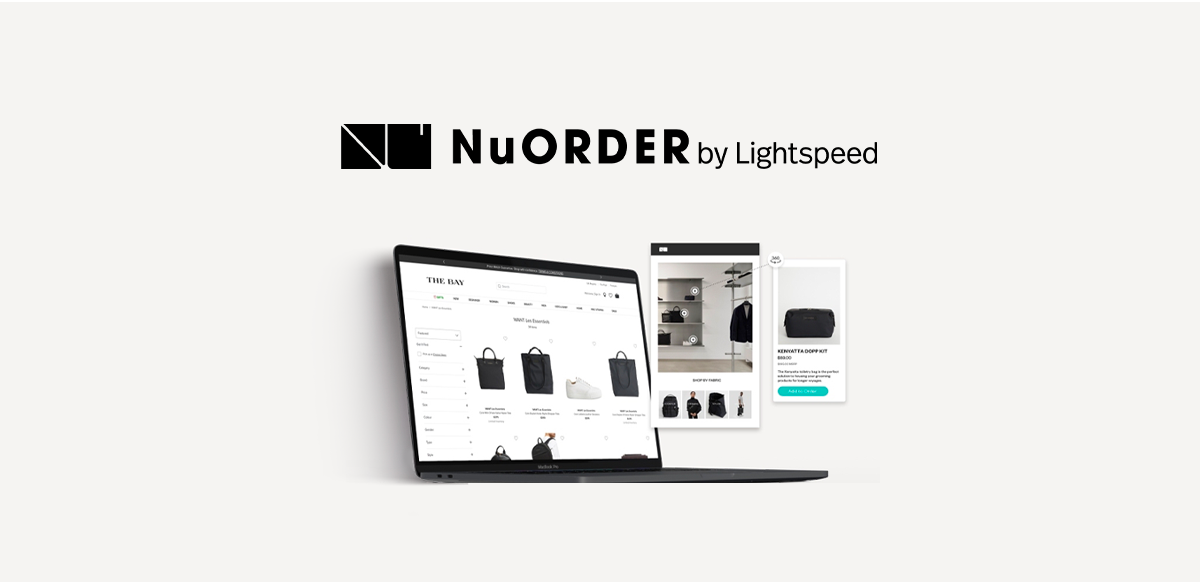 NuORDER by Lightspeed has made several announcements about their growing momentum in the market with major retailers and buyers. Tuesday, NuORDER announced their new partnership with iconic Canadian brand The Bay, which operates thebay.com featuring Marketplace, one of the largest premium life and style digital platforms in Canada, to further accelerate its digital-first transformation. The NuORDER by Lightspeed platform directly connects buyers and suppliers in real time to visualize and develop assortments, localize and cater to different markets, and complete orders that deliver the best product to consumers.
NuORDER by Lightspeed's technology will accelerate the digitization of The Bay's buying and merchandising processes with its visually-driven and intuitive platform to help buyers make data-driven decisions, collaborate with vendors, and expedite the go-to-market process. Through a fully-integrated system with The Bay, NuORDER by Lightspeed automates the Purchase Order/Item creation process to further expedite delivery and, ultimately, the online offer, showcasing product to customers faster than ever before.
"Delivering an assortment that reflects the brands, quality and lifestyle that our customers trust us to deliver is essential to The Bay experience," says Laura Janney, Chief Merchant, The Bay. "We are driving a customer-centric approach across our business, and the NuORDER by Lightspeed platform now streamlines our internal process with significant speed and efficiency, and allows us to elevate and cater to market preferences through curated on-trend assortments."
On Wednesday NuORDER announced their successful new buying experience at the Grassroots Connect buyer show. Developed with key feedback from retailers and brands, the new buying experience enables Grassroots retailers to quickly add products to their order, set their own ship dates, and easily view and manage products across shipments.
Traditionally, wholesale buying has been an inefficient, time consuming process that required specialty retailers to keep track of numerous logins to place seasonal orders. Through this new platform, Grassroots retailers can now buy a store's worth of apparel and gear on a single streamlined platform for the critical fall/winter buying season.
"The one big thing that NuORDER by Lightspeed has going for it as opposed to other platforms is the ability to review and compare all of your brands together – it's a huge advantage," said Grassroots member retailer Johannes Griesshammer of Tahoe Mountain Sports in Truckee, California.
Through the end of Connect, Grassroots retailers were able to use NuORDER by Lightspeed to shop the Fall 22′ collections of 42 brands, and going forward, NuORDER by Lightspeed will be the single buying platform endorsed by Grassroots.
"I've been doing this 23 years, and gone are the days of me turning in orders on a napkin," said Grassroots member retailer Kelly Osness of Treads n' Threads in Gunnison, Colorado. "Thank you so much for all of NuORDER by Lightspeed's hard work. It's truly making our lives easier."
Brands are also benefiting from the new platform experience. In addition to the latest virtual showroom features and advanced marketing, selling and reporting features, brands now have access to a robust set of ordering capabilities as part of Grassroots' complimentary offering, including suggested draft orders and roll-ups of pre-book, in-season and special delivery orders. The two-sided network allows brands to receive order updates in a consistent format across all Grassroots retailers and easily export them into their ERP system.
"COVID-19 has forced the industry to move forward and no other B2B compares to what NuORDER by Lightspeed has to offer for a simple, easy to use solution," said Grassroots Connect attendee Michael Novak, an independent sales rep for Pendleton Woolen Mills.
NuORDER by Lightspeed announced the success of their partnership with Bloomingdale's, delivering meaningful impact for their buying processes during market appointments, order writing and style outs. With NuORDER by Lightspeed, Bloomingdale's has digitized key buying processes by enabling its buyers and brands to collaborate digitally and in real time, creating meaningful efficiencies. This has led to reduced time spent on writing orders and preparing for style out reviews for key buying teams.
"With Bloomie's, we wanted to offer the best of Bloomingdale's with a curated lens. NuORDER by Lightspeed gave us the ability to curate with precision for the Bloomie's assortment, which is a very different environment and footprint. In order to achieve the desired experience, we needed to make sure we have volume in all styles, without duplication," said Denise Magid, Executive Vice President, General Merchandise Manager of RTW, Center Core, Outlets & Concessions, Bloomingdale's.
The visually-driven and intuitive NuORDER by Lightspeed platform was key for Bloomingdale's to build the assortment for Bloomie's, its new smaller store concept which offers an approachable and elevated mix of top designers, luxury brands, and emerging labels. The NuORDER by Lightspeed proprietary assortment tool enabled Bloomingdale's to complete its first fully digital buy for the new Bloomie's location and deliver a unique curation for customers.
Lightspeed's partnership with Bloomingdale's demonstrates its commitment to helping retailers of all sizes innovate their businesses and furthers its mission of leveraging NuORDER by Lightspeed to transform the retail industry.