Company
Ivanhoé Cambridge teams up with Lightspeed to provide omnichannel solutions to small and medium-sized tenants in its Canadian shopping centres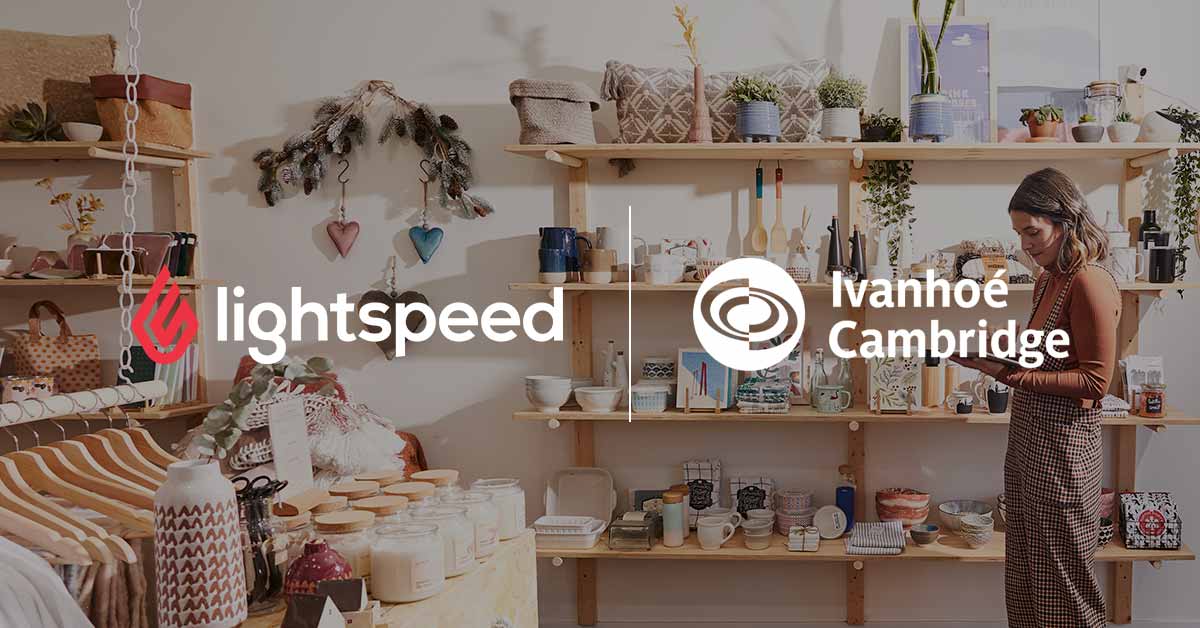 Leading cloud-based point-of-sale solution provider Lightspeed POS Inc. ("Lightspeed" or the "Company") (NYSE: LSPD) (TSX: LSPD) announced in 2020 a partnership with real estate industry leader Ivanhoé Cambridge (IC) to bring free and fully-integrated cloud services, including Lightspeed Retail and Lightspeed Restaurant, to small and medium-sized tenants and restaurateurs with locations in Ivanhoé Cambridge Canadian shopping centers. 
Giving merchants the tools to thrive
"During these unprecedented times, it's important to support our tenants. We understand that consumer expectations and shopping habits are evolving," said Natahlie Palladitcheff, President and Chief Executive Officer at Ivanhoé Cambridge. "This is an opportunity, and we are proud to partner with Lightspeed to offer a safe, fluid and trusted omnichannel sales solution to our tenants wishing to serve the communities in which our shopping centres are located."
As economies gradually resume across the country, the partnership between the two Canadian-based companies will support businesses by offering Ivanhoé Cambridge small and medium tenants and restaurateurs, with a local or regional footprint with nascent eCommerce operations, one-year free access to an integrated, omnichannel sales solution. 
Tenants will also have access to modules such as Lightspeed eCommerce and Lightspeed Delivery built within the retail and restaurant platforms, respectively.
"Our goal is to ensure the small and medium-sized businesses in our cities—who are integral to the local economies—have access to the tools they need to be successful through these significant changes in consumer behaviour and as regulations for a staggered re-opening of retail centres and store fronts begin," said JP Chauvet, President, Lightspeed POS Inc. "An omnichannel sales platform will support their needs in the short-term, while also fuelling the big picture as we look ahead to a post-COVID environment."
Benefits for merchants looking to adapt to the future with Lightspeed
What the partnership Means for retailers who adopt Lightspeed Retail:
An omnichannel point of sale (POS) solution that includes Lightspeed eCommerce and

opens inventory to an increasingly digitally savvy consumer base
Must-have tools to engage customers

, including comprehensive loyalty programs, synchronized inventory management, and built-in reports with real-time sales data

Integration of local and national parcel delivery

, via eCommerce
What the partnership means for restaurants who adopt Lightspeed Restaurant:
Lightspeed Delivery integration

options to Uber Eats, and other local food delivery services

Reach more customers

by maximizing delivery zones, customizing a takeout menu, connecting to social media and using data to understand ordering patterns

Options such as

self-order kiosks or tableside service with an iPad POS system

for in-restaurant experiences when doors reopen
The launch of the partnership follows the announcement of new initiatives from Lightspeed to help SMBs sustain and protect their business during COVID-19, including, namely, select free services for three months, an online resource guide, free online webinars with industry experts and the #LightspeedLocal campaign that reimbursed employees up to $500 in local currency on purchases made from any Lightspeed retail or restaurant customer.