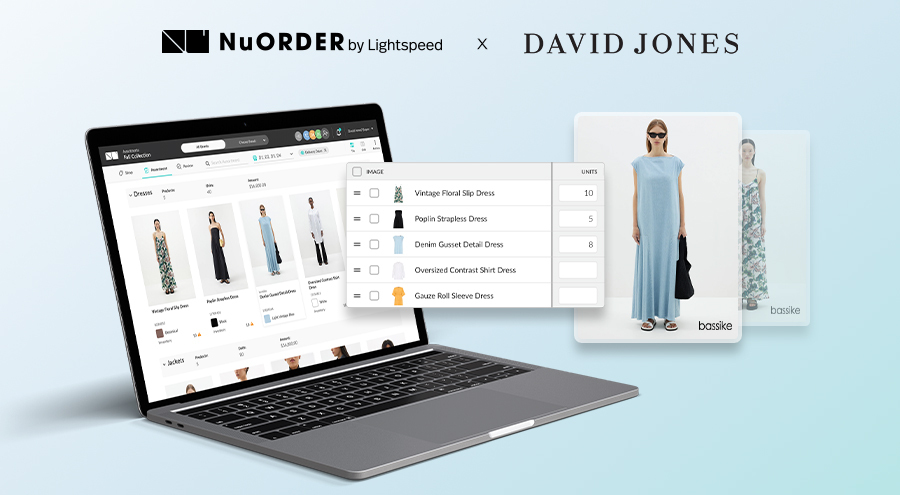 NuORDER Assortments will streamline buying plans across brands, departments and teams
Lightspeed Commerce Inc. has been selected by David Jones, Australia's leading premium department store curating the most exclusive global and local brands, as part of its Vision 2025+ strategy to digitize its merchandising and buying process. Launching in January with the women's international and designer ready-to-wear categories, David Jones will utilize NuORDER Assortments to digitally preview collections, curate assortments and complete orders in collaboration with their brands. 
This partnership will accelerate David Jones' digital transformation efforts and replace manual, time consuming processes like data collection, sizing and order writing. Buyers will have more time to focus on creating a premium world-class shopping experience. David Jones will no longer need to rely on manual spreadsheets, instead the buying team will be able to utilize pre-populated data, automated roll-ups, and real-time collaboration tools to deliver a more sophisticated omnichannel assortment. 
NuORDER by Lightspeed's innovative technology will give David Jones the ability to easily view and analyze their assortments across brands, categories, and attributes. Buyers will now be able to take a more customer-centric approach to the range planning process to ensure they are delivering a premium product offering both online and in-store. 
Using the platform's robust tagging and rollup capabilities, David Jones buyers will be able to collaborate with leadership and teams across the organization to review investments in key initiatives, such as exclusives, enhancing their ability to create distinct assortments for their customers.
"David Jones is committed to delivering an unparalleled omnichannel shopping experience for customers," said Bridget Veals, General Manager Womenswear, Footwear and Accessories for David Jones. "Adopting the NuORDER Assortments technology as our new digital buying process will ensure that our teams provide customers with access to a well-planned premium shopping experience online and in stores while also enhancing our collaboration with brands."

"We are thrilled to partner with David Jones, a leading Australian retailer known for their premium customer experience, to digitally transform their merchandising process," said Danielle Fairfield, Head of Retail for NuORDER by Lightspeed. "NuORDER will provide David Jones with the tools they need to advance their Vision 2025 strategy with a digital-first approach."
NuORDER by Lightspeed powers the world's best brands and retailers, including: Saks, Macy's, Nordstrom, Brunello Cucinelli, Rag & Bone, Kendra Scott, Barbour, Tecnica, Arc'teryx and Shiseido.
Read the full press release here.