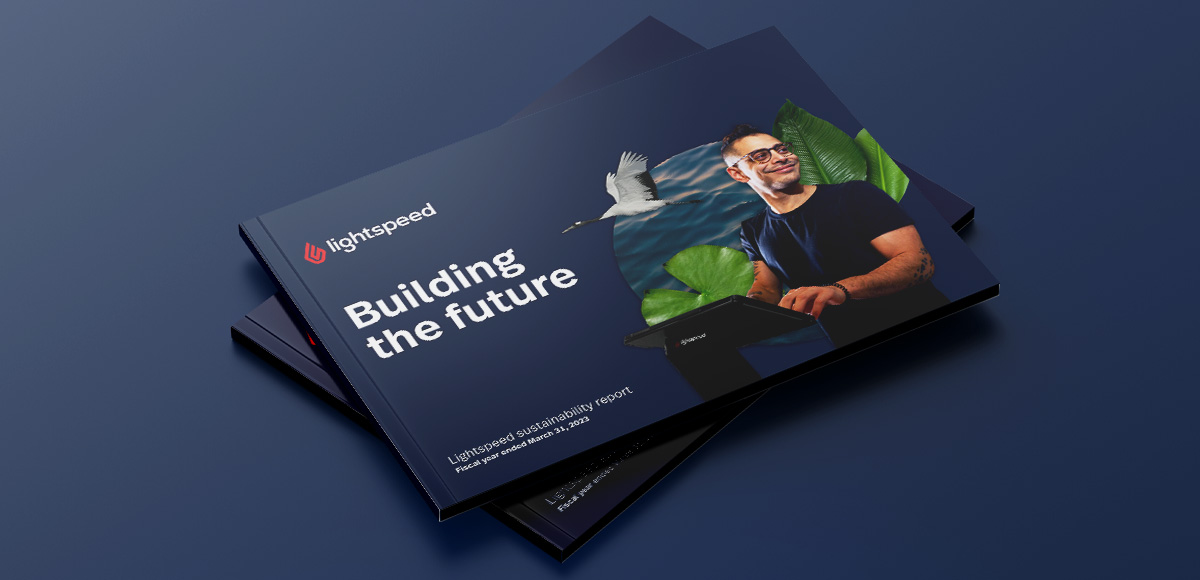 Lightspeed publishes its Fiscal 2023 Sustainability Report and renews its commitment to building stronger and more inclusive communities around the world through accessible, industry-leading technology
Lightspeed Commerce Inc., is proud to announce its second annual Sustainability Report is now live. Powering the world's best businesses, Lightspeed is the unified POS and payments platform for ambitious entrepreneurs to accelerate growth, provide the best customer experiences and become a go-to destination in their space.
This latest Sustainability Report is a continuation of Lightspeed's mission to strengthen communities and empower businesses around the world. The report outlines Lightspeed's Environmental, Social and Governance (ESG) initiatives and highlights for the fiscal year ended March 31, 2023 ("Fiscal 2023").
"When I founded Lightspeed in 2005, we were a small group of four employees. Now Lightspeed has teams in over 10 countries across three continents," said Dax Dasilva, Founder and Executive Chair of Lightspeed. "While a lot has changed, our commitment to building strong, diverse and sustainable communities remains the same." 
Some highlights of Lightspeed's sustainability initiatives include:
Lightspeed continues to partner with Sustainably Run to offer a Carbon Free Dining program. Through this partnership, Lightspeed customers can offset carbon emissions associated with their diners by planting trees. As a result of this partnership, over 1.4 million trees have been planted at the date of this publication. 

Lightspeed is proud to support non-profit organizations like TupuToa, Fondation Émergence and Fondation KANPE, which empower underrepresented groups. 

According to Lightspeed's annual diversity, equity and inclusion and engagement survey, 86% of its employees feel that they can be their authentic self at work.

Lightspeed's employee base includes 10% LGBTQ2S+, 5% persons with disabilities and 30% BIPOC representation.
In addition to partnerships and internal initiatives, the report highlights businesses using Lightspeed to transform our world for the better and build vibrant, diverse communities. One such business is Electric Movement, a retailer that sells, rents and repairs electric bikes and scooters in Old Town Chicago. The shop and its staff are on a mission to reduce carbon emissions by enabling locals to use micro mobility vehicles. Atticus Conway, a Manager at Electric Movement, notes that Lightspeed's embedded payments solution "makes stuff a lot easier on my end. With us only having to run one batch at the end of the day, it gives me more face-to-face interaction with our customers." Those conversations with customers make all the difference as Electric Movement becomes the go-to space for electric micro mobility solutions in the city. 
"This second edition of our Sustainability Report showcases how amazing our customers are," adds JP Chauvet, Lightspeed's Chief Executive Officer. "They're exceptional. They're running stores and restaurants that make a huge difference in their communities. I'm incredibly proud of each and every one of them." 
Find out more about our mission on our website: https://www.lightspeedhq.com/sustainability. 
Read the press release here.