What's new in Lightspeed Restaurant's POS app?
Introducing a new way to navigate! We've made several key features much more accessible with the all-new Navigation Bar.  It features five main sections:
Tables screen – Quickly view the restaurant's floor plan, tables and table statuses.
Takeout screen – Access all your takeout and delivery orders in one view.
Orders List screen – A new alternative to the Tables screen where you can get an overview of all orders at once. Tailor your Orders List using the search and filter features.
Customers screen – Easily search and find customer profiles in a matter of taps.
Profile screen – Get an overview of your day's statistics, view reports and close out your shift or the restaurant's day. You can also review all payments and tips and easily make adjustments as needed.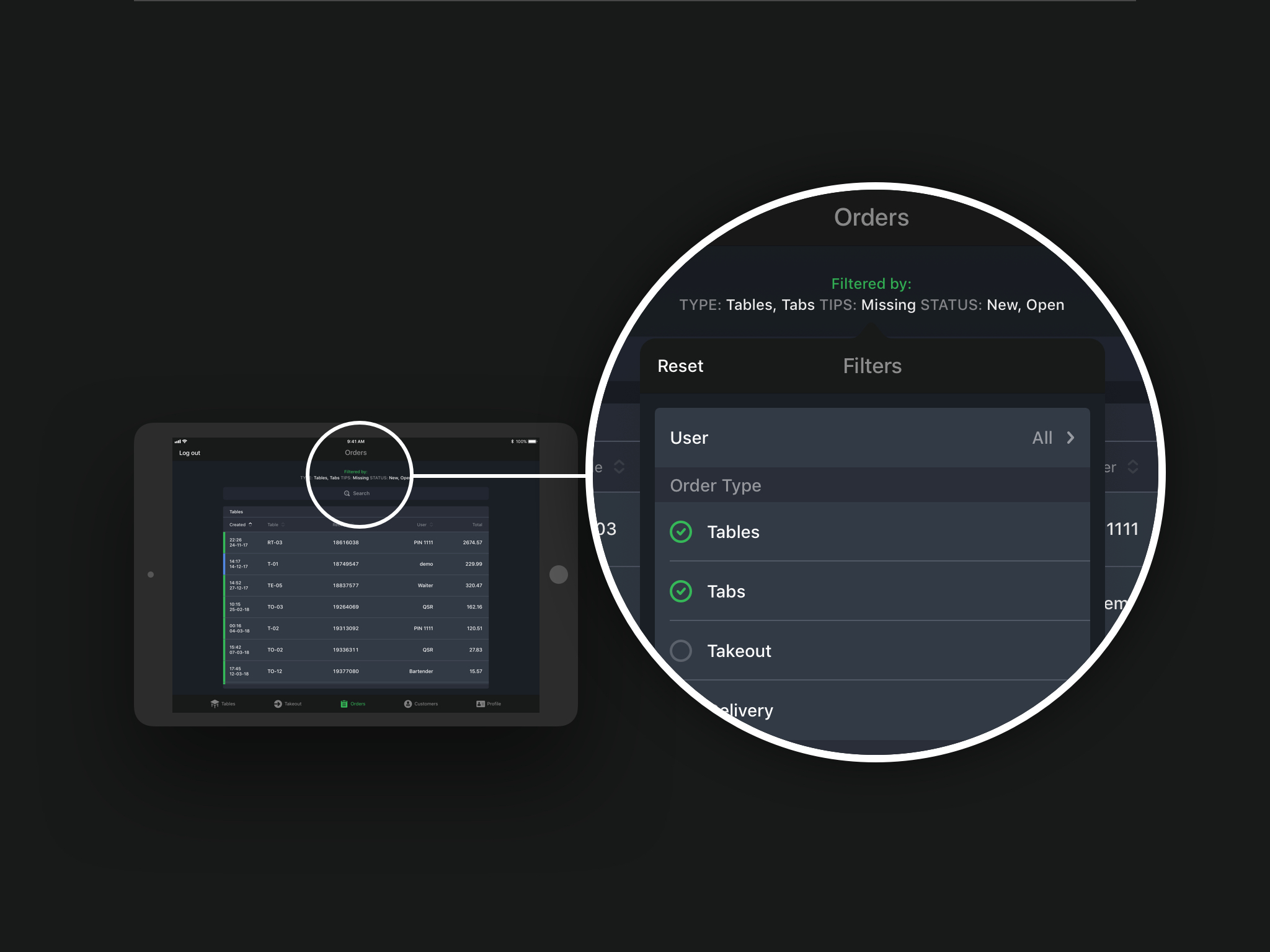 Other improvements:
Never miss an order again! You can now configure a backup kitchen and/or bar printer for instances when the primary printer is unsuccessful.

We also made improvements to the reliability of printers and added better printer error handling.

We've added support for the Super Retina display of the iPhone X.

When opening the Overview panel, your floor plan will now automatically resize to make space for it. We also made minor improvements to the Overview panel's look-and-feel.

The Cash Drawer popup also received a minor facelift including improvements to the layout and report printing.

For clarity's sake, we updated the "Cancel" button in the Actions panel to "Done".
What's new in Lightspeed Restaurant Manager?
Improvements
You can now configure a backup kitchen and/or bar printer in the printer template for instances when the primary printer is unsuccessful.

In an effort to simplify reports, we've added the ability to consolidate "Net Averages", "Void Ticket Summary" and "Correction Summary" into a single "Totals" section. This

Show totals summary

setting can be enabled or disabled.

We've also added the ability to include a detailed table of cash drawer adjustments for the Day and Cash drawer reports with the

Show cash drawer adjustment details

setting.

You can now export the credit history of a customer in CSV format.

We improved the name and placement of the "suggested tip" section on receipts (if enabled on receipt template).
Fixes
We fixed an issue where receipt IDs were not showing in Restaurant Manager for receipts with a status of "Done" on accounts with Sequential IDs enabled.
NOTE: Some features require your LiteServer to be updated to version 6.9. This update will take place automatically. If you want to have your LiteServer updated sooner, please contact Support.