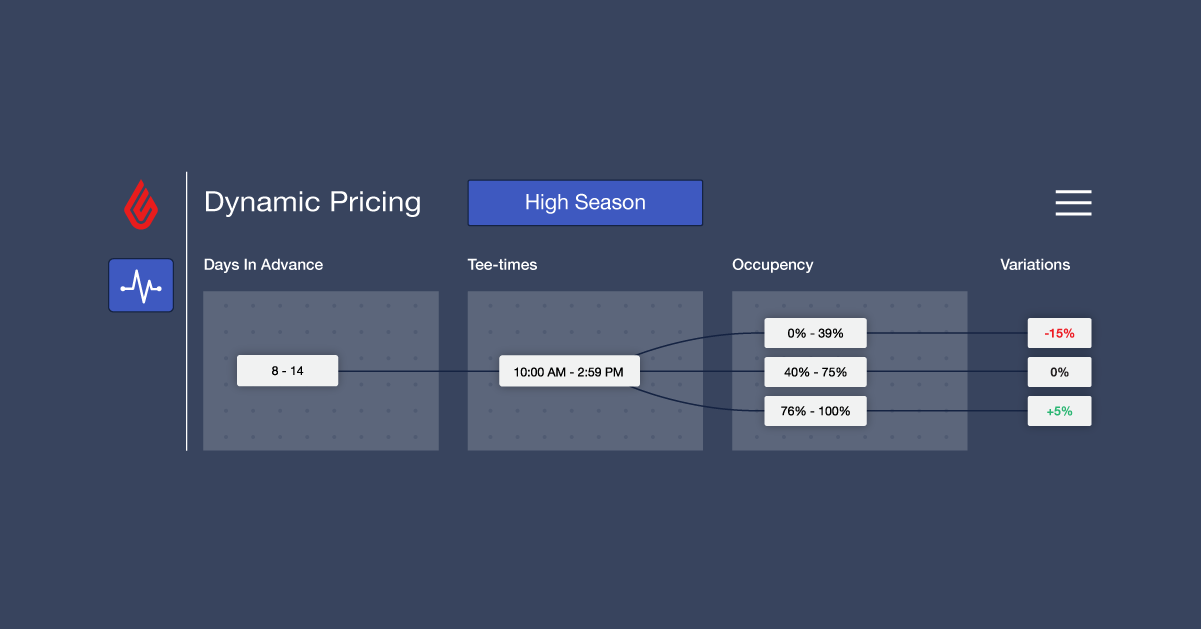 As any golf course operator knows, the value of a round of golf changes over time. From twilight and weekend rates to off-season discounts, golf courses use variable pricing to reflect demand at different times. But what if these facilities could adjust pricing in real time based on daily, or even hourly, changes in the value of a round? That's possible with dynamic pricing.
What's the key difference between variable vs dynamic pricing? Variable pricing sets different prices based on the date, time or season, but these different prices remain static over time. Dynamic pricing software also uses different prices based on daily factors, but these prices automatically change in real time in response to changing demand.
This article will look at the key differences between variable vs dynamic pricing in golf according to:
Unlock the future of your golf course operations
In this webinar, learn how powerful technology can help you quickly adapt to any situation and prepare your golf course for the future!
How each pricing strategy determines tee time rates
Golf courses have charged more for peak days and time slots for years using variable pricing. But while these prices differ from one another, the difference stays the same over time. For example, there is often a set Saturday morning green fee that costs more than the green fee set for weekday evenings. And while this strategy generally makes sense, it's important to ask whether these static price variations go far enough.
Dynamic pricing uses automated pricing changes that respond in real time to supply and demand. As the prime Saturday tee time slots sell early and often during the week, neighboring tee time reservations for that day will increase — when 8:00 hour sells out, the 9:00 tee times become more valuable. Airlines and hotels have long used this pricing method. For golf courses, rates will fluctuate based on any number of preset factors, including (but not limited to):
Time of day
Seasonality
Weekends and holidays
The historic popularity of the tee time
The forecast
Tournament days
Aerated greens and maintenance days
Using this strategy, golf courses can raise and lower prices in response to demand, thereby maximizing the potential revenue for any given round.
How do these pricing strategies benefit the golfer?
For the customer, the primary benefit of the old variable pricing model is the convenience of knowing that the rates they see online are the rates they will pay, even if they can't book right that second. That said, variable pricing doesn't adapt to factors that significantly impact the demand for a given round, and therefore how much the golfer ends up paying. The golfer may find a set rate for a Saturday tee time in the summer, but what if the forecast calls for rain and/or colder temperatures?
Rather than charge the normal Saturday rate for tee times that are likely to be cancelled or remain empty, dynamic pricing can automatically discount times to make them more attractive.
This is a major benefit for golfers who don't mind rain, colder weather and other deterrents.
Conversely, golf courses can reward early bookers by lowering the rates for a select number of prime tee time slots if they are booked a set number of days out.
Rather than having to book at preset rates, dynamic pricing can help golfers secure cheaper green fees if they book at the right time. These rates can be particularly advantageous if golfers book early enough, book online and approach the process with flexibility.
Variable vs dynamic pricing: what are the benefits for golf courses?
Variable pricing allows courses to charge more at times that are generally agreed upon to be best for a round of golf. But by moving to dynamic pricing software, golf courses can maximize revenues and gain a far better understanding of the relative value of each tee time:
Instead of solely relying on generally understood facts (more golfers are able play on Saturday morning than on Wednesday evening), dynamic pricing allows course operators to dig deeper and automatically adjust pricing according to a wide range of factors.
The strategy is especially effective when course operators use dynamic pricing software that's connected to their tee sheet, POS and CRM (customer relationship management) software.
Collecting and analyzing data from these sources is essential in developing the rules that will automatically adjust prices.
When all of this sales and customer data is visible in one place, creating a course-specific dynamic pricing strategy is far easier and more effective.
With the game growing in popularity, golf course operators looking to grow their business can use dynamic pricing to create more demand, fill more time slots and maximize the return on every round.
The drawbacks of variable vs dynamic pricing
The biggest drawbacks of the variable pricing model are instances of unused tee times and the underselling of peak tee times:
By setting your prices with no changes, there is a greater chance that certain times will stay unbooked because they cost more than golfers are willing to pay given the circumstances.
The most in-demand tee times could generate far more revenue than they currently are.
While dynamic pricing addresses both of these issues, it also comes with potential hurdles:
It's often time consuming and complicated for golf course operators to set up and maintain.While there is software available that can simplify the process, dynamic pricing can nevertheless be intimidating for courses that have relied on a variable pricing system.
It's a system that may frustrate golfers when they find out that they paid more for their round than others based on when they booked.
While these concerns are understandable, there are certainly ways to address them and still take advantage of dynamic pricing. The key is transparency! If you're interested in adopting a dynamic pricing strategy, it's important to effectively communicate the change both online and at the course.
Which pricing structure is right for you?
As with any change that impacts facility revenues and the customer experience, every facility should determine what works for them. That said, maximizing revenue must be a priority for public courses looking to stay competitive and grow. Finding ways to do so is part of the duty of the GM, Director of Golf and even the PGA Head Professional. If yours is a golf course that sells out every Saturday, Sunday and stat holiday, it's in the best interest of the business to switch to dynamic pricing to start capitalizing on demand.
Ultimately, it's important for golf courses to understand that dynamic pricing is here to stay. From air travel and accommodations to concert and sporting events, it's now the norm in industries where online booking is popular.
Want to improve your golf course operations?
If you're looking to adopt affordable dynamic pricing software that can help you get more out of every tee time, Lightspeed's one-stop golf course management platform can help you do it. Talk to one of our experts to learn more about how Lightspeed Golf can transform your course's pricing strategy.
News you care about. Tips you can use.
Everything your business needs to grow, delivered straight to your inbox.