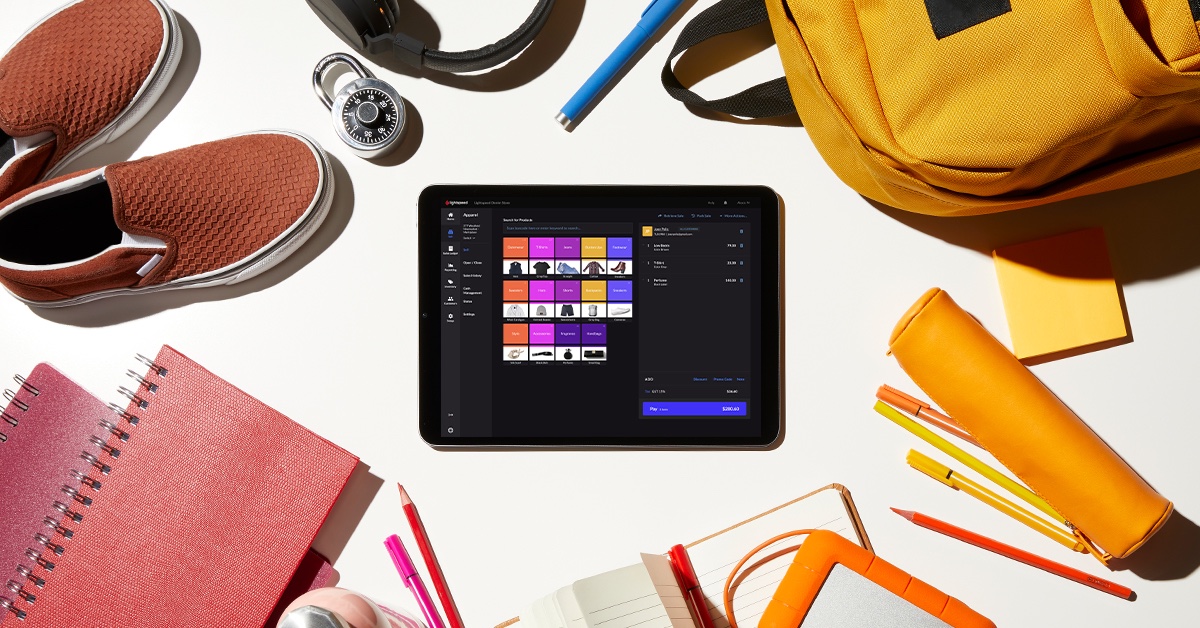 This post focuses on X-Series features. If you're using R-Series, check out this post. Don't have Lightspeed yet? Talk to an expert.
The back to school (BTS) season is nearly here. And if you work in retail, you know that's a big deal. Back to school is the second biggest shopping period of the year, and 2022 is shaping up to be busier than ever.
Mastercard SpendingPulse is forecasting a 7.5% increase1 in back to school spending in 2022 compared to last year, indicating the industry is continuing to bounce back from the pandemic.
It's also important to note that consumers plan to kick off their back to school shopping sooner rather than later. According to Statista, the majority of customers (62%) buy back to school supplies in the first two weeks of August2.
All to say that it's high time to start prepping your business for back to school. Fortunately, Lightspeed makes it simple.
Here are 3 easy (but powerful) ways to drive even more sales this back to school season.
1. Sell everywhere
Make no mistake, this year's consumers will be using multiple channels in their back to school shopping journeys.
While many shoppers will continue to shop in-store, a good chunk of consumers will make purchases on ecommerce sites and social media. Industry data shows that 48% of consumers3 are planning to shop online for back to school, making the internet a top retail shopping destination this time of the year.
To maximize your back to school sales, you need to meet consumers where they're at. And when it comes to the internet, where they're at is everywhere.
If you haven't done so yet, set up your eCom store on Lightspeed. This enables you to connect your web store with your point of sale system to ensure your stock levels stay in sync across all your channels.
Lightspeed also integrates with Wix, WordPress, Amazon, eBay, and other platforms. This means if you have an existing online store, connecting it to Lightspeed is even easier.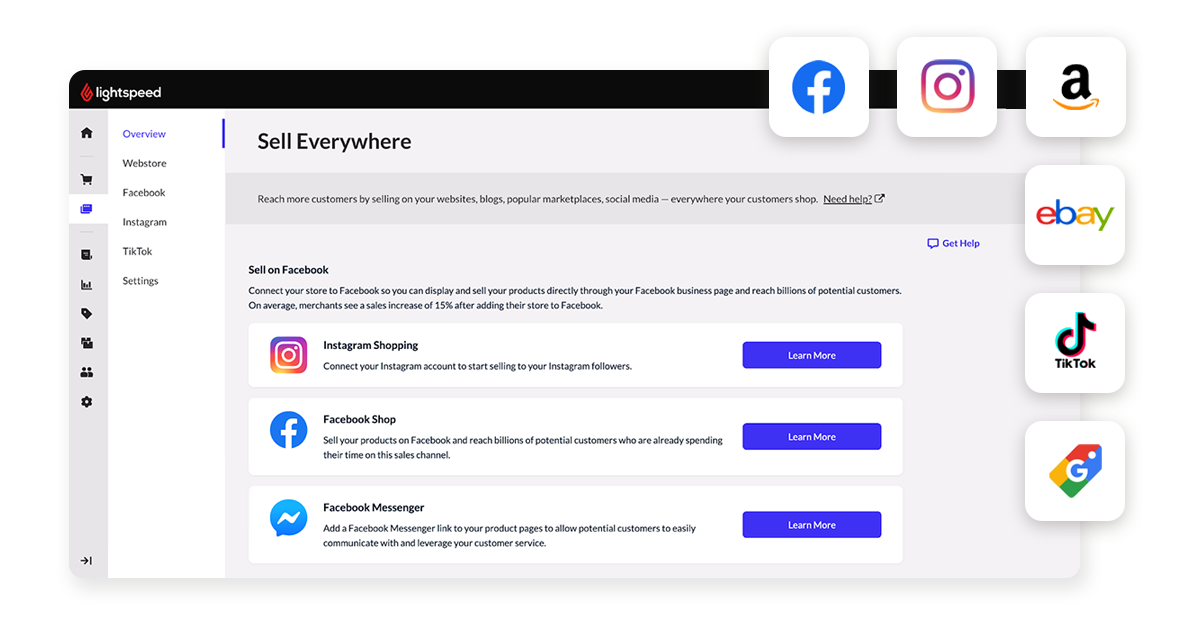 And don't forget to set up shop on social media.
More than half of social media users (55%) aged 18 to 24 say that they've purchased something via a social network4, so having a social selling strategy can definitely help drive traffic and sales during back to school.
Lightspeed enables you to start selling on social media with just a few clicks. Connect your store to TikTok, Instagram, and Facebook, so you can put your products in front of your brand's fans and followers. The beauty of social selling is it empowers you to set up shop quickly. So if you don't have time to launch a fully-fledged ecommerce store, you can still reach online shoppers through social media.
Learn more about how Lightspeed empowers you to sell everywhere. Have a chat with your Account Manager today!
2. Maximize your retail data
Already have your store set up? Now it's time to fill your shelves with the right products. With advanced reporting, it's easy to figure out what products sell best and when based on how shoppers have purchased previously.
With Advanced Reporting, you're able to access historical data and gain more in-depth information about your sales, inventory and customers.
For instance, you can generate an Inventory Report for the previous back to school season, and identify the products that performed well.
Inventory Reports can be filtered based on the following parameters:
Product

SKU

Brand

Outlet

Supplier

Product Type
This lets you slice and dice your data and zero in on the exact metrics you need. For example, if you need to know which brands were most popular among BTS shoppers, you can simply select the "Brand" filter.
Or, let's say you want to see how apparel is doing versus accessories. You can do that using the Product Type Report. Want to know which vendors are responsible for your best sellers? Choose the Supplier Report.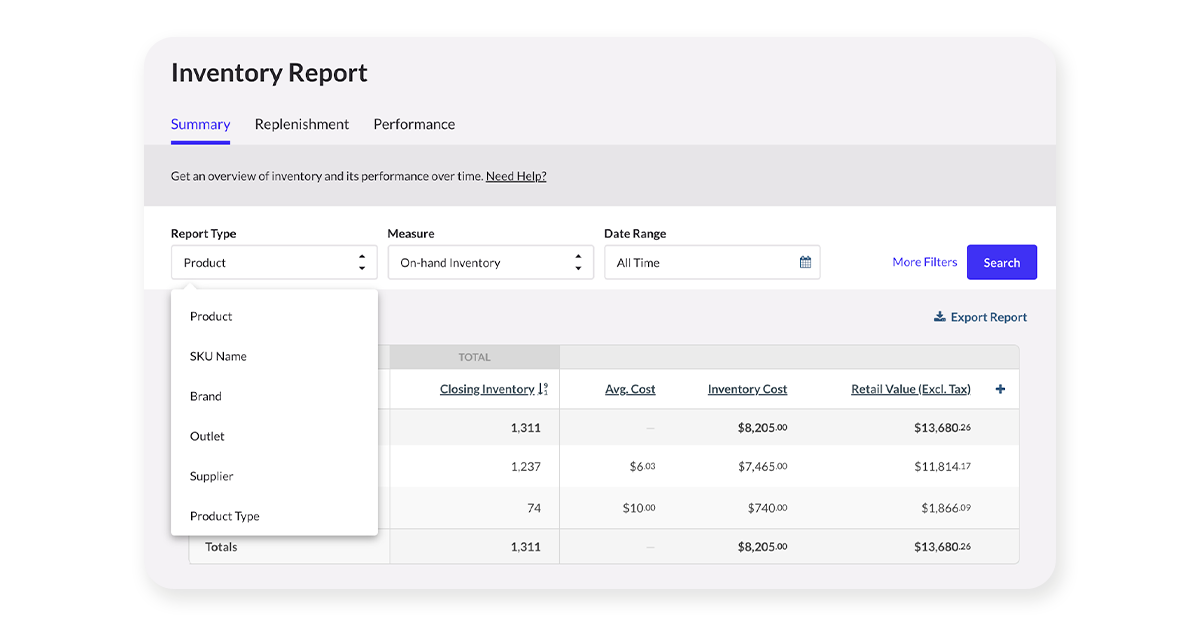 Another useful report for back to school is your Sales Report, which summarizes the revenue and profit generated during a specific period.
The Sales Report can be filtered based on:
User

Outlet

Register

Customer

Customer Group
This makes it simple to view your top salespeople, highest-spending customers and most profitable locations (i.e., outlets).
By gleaning insights into last season's sales and revenue, you're able to figure out what worked (or what didn't) and apply that knowledge to the upcoming back to school season. This also helps you understand your customers better so you can prepare for other important seasonal events.
Let's say you discover that one location significantly outperformed your other stores during last year's back to school period. From there, you can identify what that specific store did and strive to replicate its results this year.
Or suppose you want to spotlight your top salespeople so they can motivate your team this back to school season. You can easily do that by using the "User" filter on your Sales Report.
You'll also want to look at sales per customer. By filtering your Sales Report by Customer or Customer Group, you can quickly identify your top spenders and find ways to engage them this back to school season.
Plus, if you know which customers are the most profitable, you can tailor your marketing and attract similar shoppers to your store.
Want to get the most out of your retail data? Your Account Manager can show you how. Get in touch today!
3. Focus on customer loyalty
While it's essential to keep acquiring new shoppers, don't forget to cultivate your existing customer relationships. Research shows that increasing customer retention rates by 5% can lead to a 25% to 95% boost in profitability.5
Here's even more good news: driving customer loyalty and retention doesn't have to be difficult. Lightspeed Advanced Marketing offers a range of tools designed to keep customers coming back.
You can set up a loyalty program that lets your customers earn points for every purchase. Even better, you can implement your loyalty initiatives across brick and mortar and ecommerce, so your shoppers can earn, redeem, and enjoy their rewards no matter where—or how—they're shopping.
Plus, Lightspeed Advanced Marketing lets you reward people for valuable non-purchase activities like writing product reviews, referring their friends and more.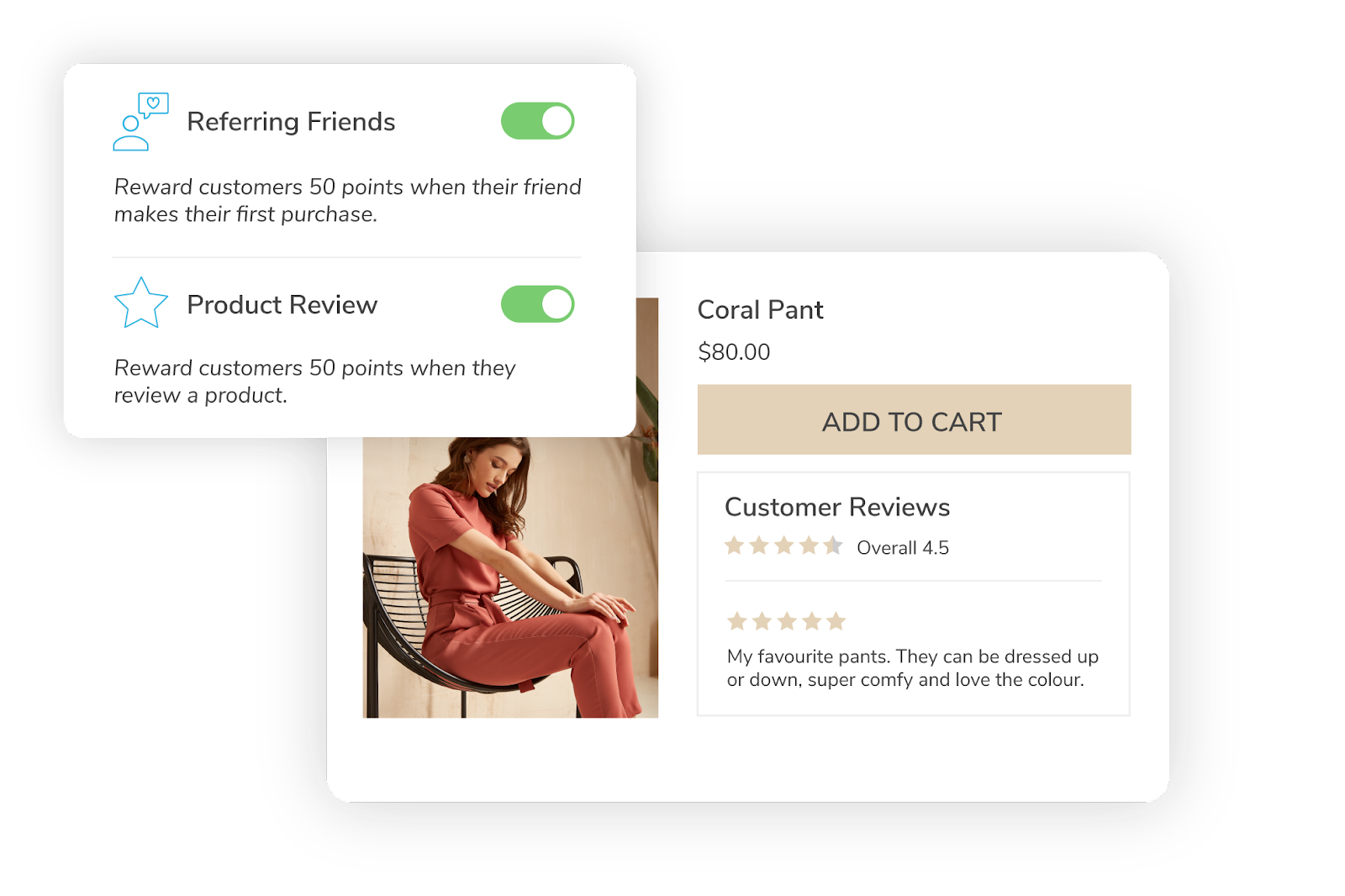 Lightspeed Advanced Marketing enables you to create marketing campaigns in minutes. This is particularly useful for back to school, because you can showcase relevant products and deals.
If you're running a BTS sale, for example, simply set up an email campaign using the solution's drag-and-drop email builder. You can even customize each email's content based on user behavior, to deliver a relevant and personalized experience.
You can also leverage SMS marketing for back to school. Lightspeed Advanced Marketing has built in SMS features so you can text your customers and ensure they know about your back to school initiatives.
Discover how to boost customer loyalty and retention this back to school season (and beyond). Have a chat with your Account Manager to learn more about Lightspeed Advanced Marketing!
Prepped and ready for back to school?
Lightspeed can help you make this year's back to school shopping season your best one yet. Get in touch today and we'll help you level up your BTS initiatives with Lightspeed Retail.
Talk to your Account Manager
Get in touch with your Account Manager to discuss your needs.
—
1 https://www.washingtonpost.com/business/mastercard-spendingpulse-back-to-school-sales-to-be-up-75percent/2022/06/14/44ccb5d8-ebd1-11ec-9f90-79df1fb28296_story.html
2 https://www.statista.com/statistics/286408/estimated-time-to-begin-back-to-school-shopping-among-us-consumers/
3 https://www.statista.com/statistics/318853/back-to-school-shopping-us-anticipated-shopping-location/
4 https://influencermarketinghub.com/social-commerce-stats/#toc-1
5 https://hbr.org/2014/10/the-value-of-keeping-the-right-customers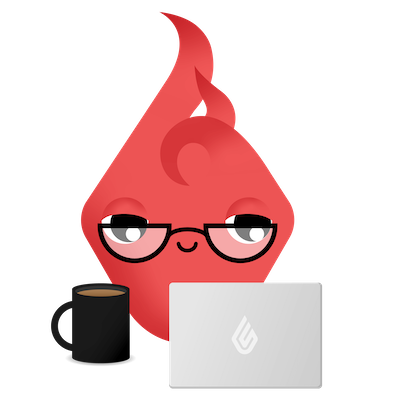 News you care about. Tips you can use.
Everything your business needs to grow, delivered straight to your inbox.