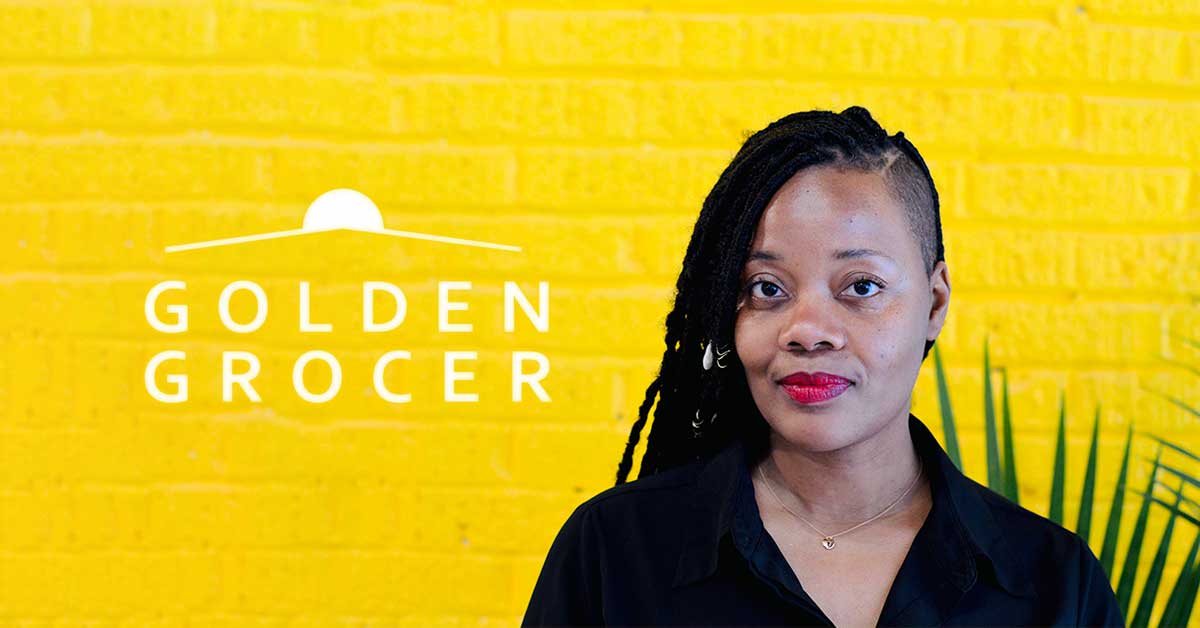 Golden Grocer is a Black-owned independent health food store supplying its customers in St Louis, Missouri, with natural foods, herbs, supplements, beauty and cleaning products for homeopathic remedies and lifestyles.
When the former owner retired in 2019, Dr. Jamila Owens-Todd took over and got to work digitizing 40 years of retail management that had previously been done by hand, with ShopKeep by Lightspeed as her chosen POS partner.
ShopKeep by Lightspeed's RISE (Reinvesting in Small-Business Equality) program was created to help fund the dreams of businesses like Golden Grocer with access to capital. It gives qualifying minority-owned businesses a no-fee, zero interest cash advance of $10,000. With her education, community knowledge and drive to succeed, RISE recipient Dr. Owens-Todd is fortifying Golden Grocer to keep serving the community now and into the future.
The beginning: taking over a legacy business
Dr. Jamila Owens-Todd's relationship with Golden Grocer started over 20 years ago. She discovered the health food store as an undergrad and it quickly became close to her heart as a resource for health and natural remedies.
After receiving her doctorate and becoming a naturopathic doctor, Dr. Owens-Todd frequently referred her patients to Golden Grocer. Her working relationship with the owner grew closer and closer—and that meant when the owner was ready to retire after 40 years in business, he felt comfortable passing the business on to Dr. Owens-Todd.
And so, in 2019, Dr. Owens-Todd took ownership of Golden Grocer, a business dear to her and important to her patients. She immediately saw the importance of bringing the store's systems into the present day. In addition to digitizing and automating 40 years of legacy systems—inventory was still done by hand, and the till was manual, nary a cloud-based system in sight—Dr. Owens-Todd also needed to move locations to somewhere better suited for Golden Grocer's future.
However, getting the capital to get any of this going was a struggle. Being a new business owner, Dr. Owens-Todd didn't have the credentials to qualify for credit from the bank right away; securing credit was almost impossible. But Golden Grocer did qualify for ShopKeep by Lightspeed's RISE program—and with the funds, she got to work.
Dr. Jamila Owens-Todd on the present and future of retail
Updating the Golden Grocer business model
"Taking over a legacy business that's been in existence for 40 years and coming in to add new products and a new location were probably a bigger challenge than the pandemic, to be honest, because people know what they know and like what they like. Implementing change is tough in that respect," says Dr. Owens-Todd.
But Golden Grocer's systems were antiquated, and they needed to be updated. "The majority of feedback was all welcoming and people wanted to see the change because you want to go into a place that you like and you want to buy products you like. So that's been a challenge, but definitely worth it."
The next step for Golden Grocer's new business model is eCommerce, and in particular, bringing the personalized, curated in-store experience online for customers. "Being able to recommend products that complement each other while customers shop online would mean I could provide next level opportunities in online shopping."
Keeping in touch with the Golden Grocer community
Social media has been a lifeline for keeping in touch with customers. "I'm with them. I get a lot of feedback online. I try to acknowledge all of their feedback, whether it's a call, an email or a DM," says Dr. Owens-Todd.
On Golden Grocer's Facebook page, videos from inside the store, staff and Dr. Owens-Todd herself keep customers up-to-date on available products and healthy living insights.
That personal contact with customers has been vital. "I've made it a point to get more videos out about, hey, look, this is what's going on at the shop. I think that when people have information and they get the explanations they're looking for, they feel better. So I try to provide as much insight and conversation as possible, and the same goes with the staff, so they feel that their work is represented."
Crucial support for Black business owners
Being able to fund business is crucial to growth, but limited access to credit is a hurdle for too many minority-owned small businesses. The Brookings Institution's 2018 Small Business Credit Survey found that large banks approve around 60% of loans sought by white small business owners—but only 29% of loans sought by their Black peers are approved.
"Even though there were a lot of changes to be made at the store, securing credit was almost impossible," says Dr. Owens-Todd. "And so when I heard about the RISE program, I was like, oh, my goodness, if I'm eligible that would be amazing. And I was."
Minority business owners are often underserved for funding; community-driven resources serving Black students, professionals and businesses are crucial to success, but allies must do their part to help bridge the gap as well. ShopKeep by Lightspeed's RISE is just one piece of the puzzle, and our part of the solution.
Retail innovation and the future
For Golden Grocer, retail innovation means taking the personal relationship they have with their customers omnichannel.
"I think it's having a more curated experience, being able to offer customers what they want and being able to make it a little bit more personalized, whether it be eCommerce or in person," says Dr. Owens-Todd.
"We would love to have online personal shoppers help refer customers to certain products. I think there is opportunity for that, recommending products that go well together. As the practitioner, I want to help them really curate and make it a very different type of experience."
Golden Grocer: serving community health
Integrating ShopKeep by Lightspeed revolutionized the way Golden Grocer managed their inventory, which meant they could begin moving into delivery. Dr. Owens-Todd has since launched the Golden Box, a monthly delivery of healthy plant-based food and holistic products to help customers maintain their natural lifestyle and try out new products.
Being able to best serve her community and customers was at the heart of updating the way Golden Grocer operated. It was about using modern systems to give her customers peace of mind that they would have a good experience while taking control of their health.
"I don't want to be a destination because it's a black business. I want to be a destination because it's a good business. Now, with that, I am attached to my community, and I want to have healthy offerings for people of color," says Dr. Owens-Todd. "This shop has been a staple of Black people in the community."
Golden Grocer serves an important role: being a health food store where people of color can go to feel welcomed. "I want to have healthy offerings for people of color, because traditionally, there aren't these types of places in our community. I know people can go to a health food store today and still question, am I not getting the services because I am a person of color? When you come to Golden Grocer, you don't have to worry about that. You can come in and not worry about, are the shopkeepers being rude to me because I'm Black or are they just having a bad day?"
Diverse business: room to keep growing
Golden Grocer is the kind of small business that's so important to the health of our neighborhoods—community-focused, ready to innovate and thoughtful in how they grow. ShopKeep by Lightspeed is proud to be their POS system provider, and even prouder to have them as a part of the RISE program.
The power of diverse business is deeply important to Lightspeed. Our CEO, Dax Dasilva, recently appeared on the Disruptors podcast to speak about the reality of diversity in the tech industry—and how far there is yet to go.
As a signatory to the BlackNorth pledge, and with our partnerships with the Black Professionals in Tech Network, Technovation and Black Girls Code, we're committed to doing better, every day.
We're also committed to giving Black- and minority-owned Lightspeed businesses a platform to tell their stories. If you've got a story you want to share with us, please reach out with us using the form on this page!
News you care about. Tips you can use.
Everything your business needs to grow, delivered straight to your inbox.