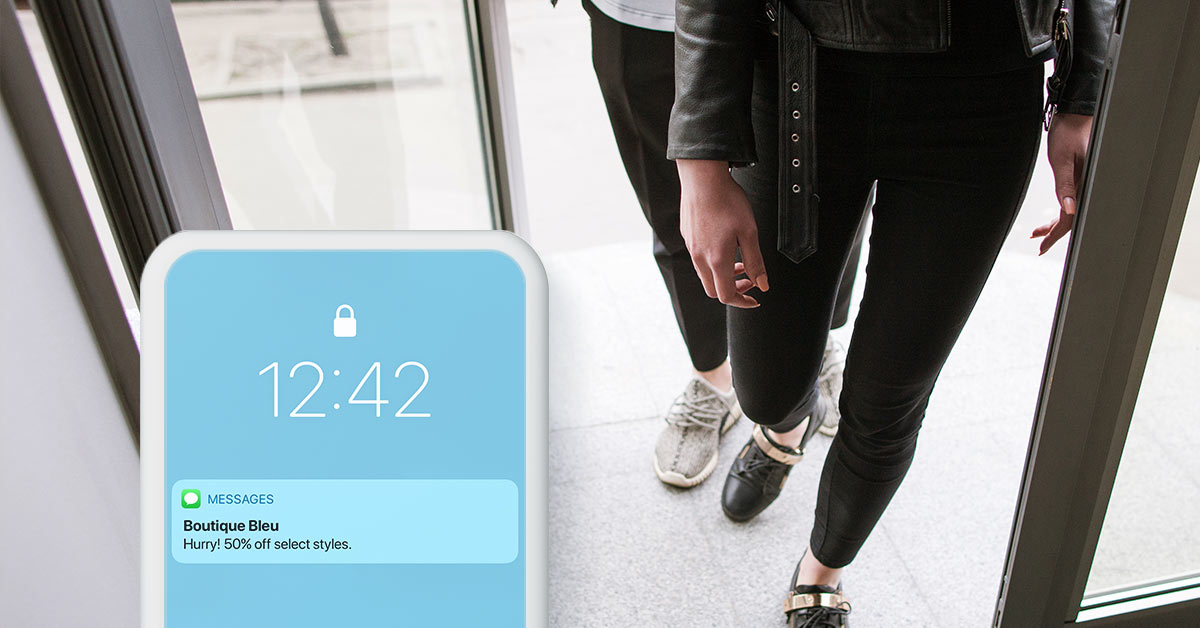 When people think of retail loyalty programs, they often think of old stamp cards lying somewhere at the bottom of their wallet. Thankfully that's in the past (for the most part).
Retail loyalty programs have come a long way in the past decade.
They've gone from being inefficient and difficult to track, to becoming useful marketing tools that help retail merchants translate their point of sale's customer data into personalized, interactive campaigns that drive more repeat purchases and brand fidelity.
To launch a successful retail loyalty program, though, you need to have a clear understanding of what you want to achieve and how your loyalty program fits into your customer journey.
Two tips for a stronger retail loyalty program
Use emails and SMS messages

Leverage your customer data

1. Use email and SMS messages
75% of customers come back to a retailer's store or website after receiving an offer. The real challenge, however, is getting customers to actually see these offers.
While it's a necessary element to any loyalty campaign, you shouldn't rely exclusively on emails to send relevant offers to customers. Why? Email open rates are under 25%. Less than one in four people will even open your email.
The most successful loyalty programs use both emails and SMS messages to send offers to customers, which maximizes the probability that the offer is seen and that the offer results in a sale.
It might come as no surprise that people are glued to their phones.
Studies show that people check their phones upwards of 80 times per day. Additionally, SMS messages have an 82% open rate. The probability of a customer seeing your offer when it's sent by SMS message is substantially higher than with emails.
How to use emails and SMS messages effectively
Plan your objectives
Before you launch any campaign, it's important to work backwards.
By that, we mean thinking about the desired actions you want people who receive the email or SMS message to take.
Do you want to promote a specific offer, generate awareness for a new product, get newsletter signups, generate sales for your new collection?
Clearly define your objectives so that you can accurately measure your campaign's performance once it's launched.
Get permission
The anti-spam laws around email marketing vary by country.
Canada's Anti-Spam Laws (CASL) state that consumers need to explicitly opt-in and consent to receiving promotional emails before you can send them anything.
In the U.S., the Controlling the Assault of Non-Solicited Pornography And Marketing Act (CAN-SPAM) requires consumers to opt-out of receiving emails. If they don't opt-out, you can send them marketing emails.
Not adhering to these laws can have serious consequences. Click the links below to learn more about email marketing and anti-spam laws in your country.
Don't spam
Even once they opt-in (or don't opt-out), it's never a good idea to bombard your customers with emails and SMS messages. Spamming customers actually has a negative effect that can result in them unsubscribing from your mailing list or uninstalling your loyalty app.
Be brief
Think about the last time you opened a long email. Did you read the whole thing? Probably not.
People are more than likely going to scan the email for any relevant information and decide whether or not to take action afterward.
It's important to keep your email and SMS copy as brief as possible and focus your messaging on what the benefit is for the recipient.
We really like this example from Reformation. The text is minimal, but it tells you everything you need to know.
Reformation's dresses look good enough for a baby shower and are easy to put on. The images do the rest of the talking.
A/B test
A/B testing (also referred to as split testing) is when you test two versions of the same email or SMS message to see which is more effective.
The goal is to figure out what drives the best results and compels the most conversions. You can test virtually anything in an email:
Subject lines

Calls to action (CTA)

Graphics (colors, pictures, etc)

Content
With Lightspeed, you can easily compare the engagement of your previously sent emails and learn what type of emails work best with your customers.
Just select an email template (or create your own) and try different combinations of image, design or copy.

Once you've sent your emails, you can analyze each of their open rates, clickthrough and engagement rate.
Testing these elements during the early stages of your loyalty campaign will help you figure out what type of content excites your customers and makes them take action.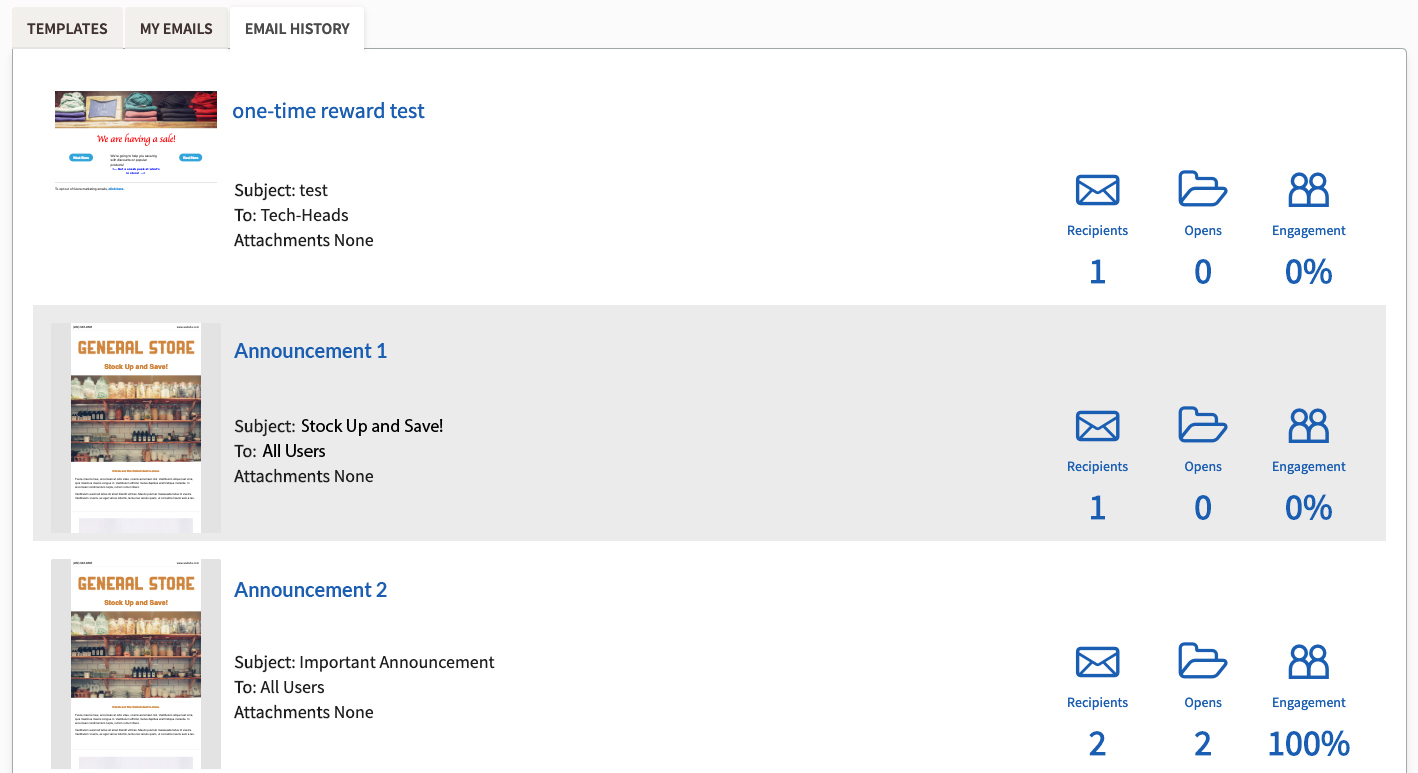 In the example above, we tested two different Announcement email subject lines (Stock Up and Save!, and Important Announcement). While the sample size is small, we can see that Announcement 2's subject line has, so far, produced stronger open rates.
2. Leverage your customer data
While offering special deals, promotions, discounts and gifts is part of a loyalty campaign, so too is building a personalized connection with your customers.
Deloitte's 2019 Retail Outlook report notes that for retailers to stand out, they need to stray away from offering purely "transactional" incentives and start offering rewards that have deeper, more personalized value. This means stepping out of the "discounts and price reductions" comfort zone and establishing a personalized connection with your customers.
To achieve that, start by using your customer data (like their purchase history) to know what products and services they like and sending them rewards based on those preferences.
Your point of sale (POS) can help you do just that.
With Lightspeed, you can create customer groups based on shared demographic information, purchase history, location, method of payment and special days (like birthdays).
In the example below, we created customer groups for deal-hunters, friends and family, seniors, students and tech-heads.

Once you have your groups set up and ready, you can just choose an email template, add your text, photos, subject line and select the groups you want to send the email to.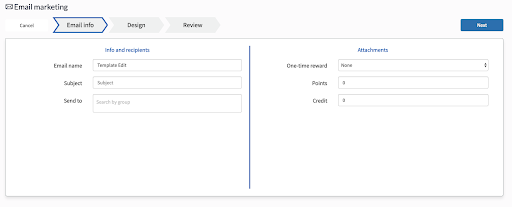 Next, send the emails and analyze your results afterward to see how you can improve your next emails.
Tip: With Lightspeed, you can also send SMS messages to your customer groups.
Segmenting your customers into groups helps you send the right message, to the right customer, at the right time.
And assuring that the message you send them is actually relevant.
That helps your business show customers that you understand what they want and that you've got what they need.
Using your customer data to inform your retail loyalty program promotions is a huge contributor to their success: Higher-converting promotional campaigns and a higher lifetime customer value (LTV).
Personalize your promotions
To build long-lasting relationships with customers (and increase their lifetime value), you have to consistently show them that your business has what they need.
Rather than offering generic rewards, use your customer data and offer personalized promotions that matter to the customer.
If a customer typically purchases new items at full-price, consider adding them to a customer group that will be targeted with emails promoting products that are new in-store. Those customers probably value being the first to buy a new item rather than older items that are being liquidated.
There are plenty of ways that you can personalize your retail loyalty program's promotions:
Birthday offers

Advanced previews of new collections

Discount rates on items based on past purchase preferences

Giveaways

Special event invitations
Providing consistent branding across all channels helps make the shopping experience more memorable.
Launch a referral program
By focusing on your existing customers first, you can even attract new ones.
Referral programs are a great way to incentivize your existing customers to recommend your business to their friends and family.
According to Nielson, 77% of customers are more likely to buy from a business that they learned about through friends.
Consider incentivizing your existing customers to share special promo codes with their friends by offering them a kickback, giveaway or promotion.
For example, for every customer they refer, they get a discount towards their next purchase.
Offering loyal customers the chance to refer friends or family and win points or rewards is a great way to make your customers happy and get new potential customers in exchange. Everyone wins!
Grow your business with a loyalty program
Investing in your customers is not just great for your brand image, but also your bottom line. Your existing customers can be worth up to ten times more than their original purchase.
And that's where a loyalty program that's synced with your retail point of sale really shines.
When both work seamlessly with one another, you can fully leverage your customer data, maximize how many existing customers spend and incentivize them to recommend your business to their friends and family.
That adds up to increased sales from both existing and new customers and stronger customer relationships. Loyalty programs are customer-centric marketing, done right.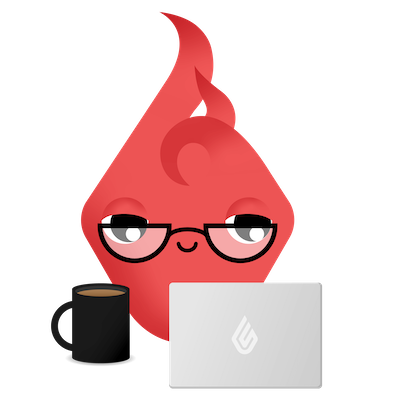 News you care about. Tips you can use.
Everything your business needs to grow, delivered straight to your inbox.