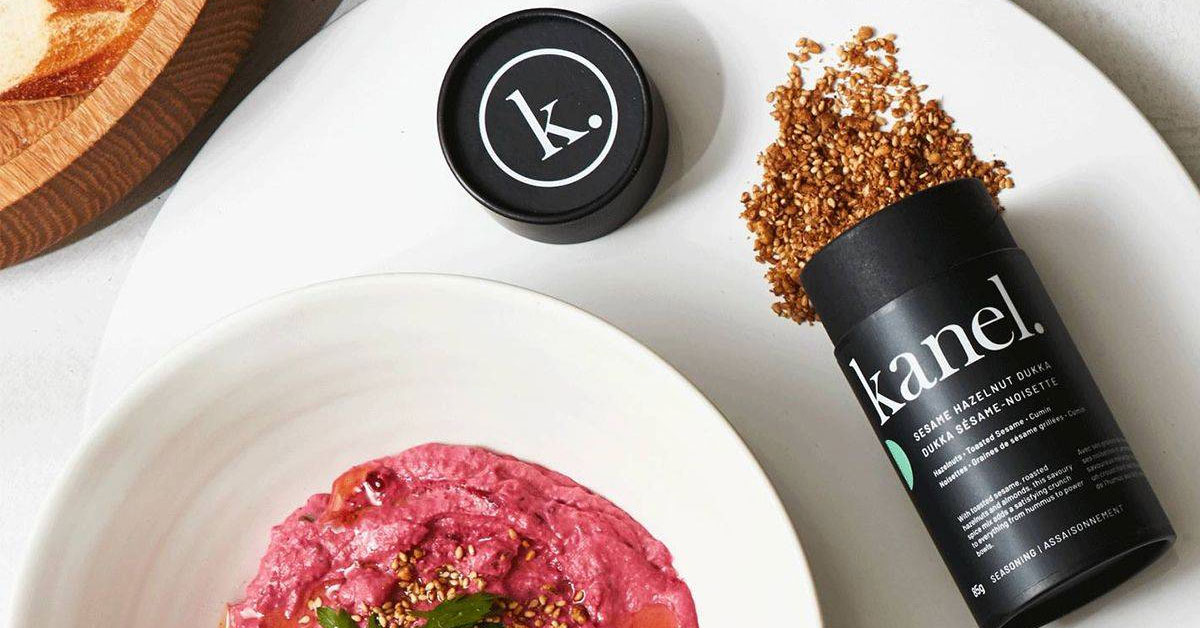 Montreal-based Kanel makes premium spice blends and sea salts, all natural with no artificial flavors, no colors, and no fillers. They're blended in small batches with innovative ingredients and are, without a doubt, super fresh.
Kanel is the brainchild of Kim Wiseman, a retail expert with a love for seasonings. "I used to love blending spices and mixing curries myself and then I had 2 children and I didn't have time to do it anymore. I wanted spices that would help me make quick and easy meals that were super healthy and delicious, however, what I found in the grocery store fell short. They lacked freshness, they lacked flavor and they had a lot of fillers. I also had a lot of allergies so they weren't user-friendly for me." Knowing she could do better, Kim enlisted the help of partner Melanie Barbusci and together they launched Kanel.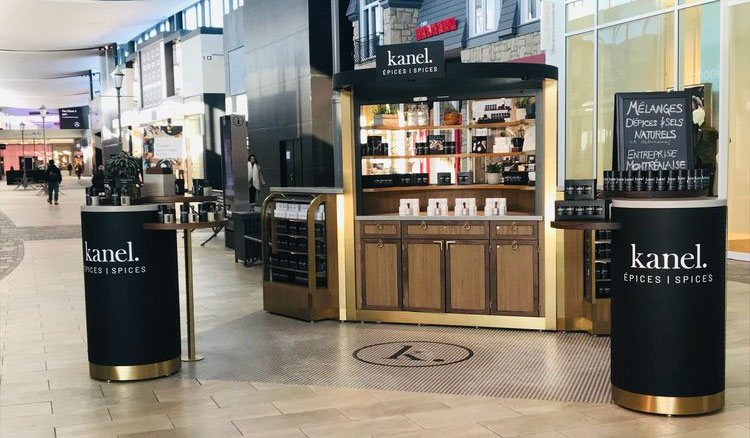 For their launch, they opened their first kiosk in one of Canada's top malls, Carrefour Laval, in November 2018. Now, just six months later, plans are well underway for another 3 kiosks in different malls around Eastern Canada.
We wanted to be on the main street of the modern age. It was a great place to test the concept.
Inspiration for their kiosk concept came from food markets. When visiting food markets, people are touching, smelling, choosing, an experience they wanted to replicate. "Spices are a sensory product with spices, we wanted people to get a taste and an idea of what they're buying. We offer tastings in our kiosk—you can try anything here. We find that olive oil really brings out the taste of spices, so we have toothpicks that you can dip into olive oils and dip into the spices."
Aside from their permanent space, Kim and her squad take their spices on the road, doing corporate events, displaying at food markets, and planning for appearances at street festivals, in pop-ups, and around other retail centers. Billing themselves as an omnichannel brand, Kanel is really focused on creating a 360 customer experience. Every channel and customer interaction needs to be continuous and on-brand.
We want to make sure that we're tying in all of our experiences—the online site, the customer communications, in-store experience—we really want to create a 360 experience with the brand.
The importance of packaging
Product packaging became an enormously important consideration for Kanel. Making an effort to be as sustainable as possible, the bags containing the spices are 100% compostable and the cardboard tubes that hold the spices are recyclable.
We're trying to innovate as much as we can. As we grow, we're going to be making more strides and efforts to be as sustainable as possible with our packaging.
Their packaging is a huge aspect of the brand feel, and their efforts have gone into keeping their branding as clean and minimalist as possible—products that customers are able to proudly display on their counters at home.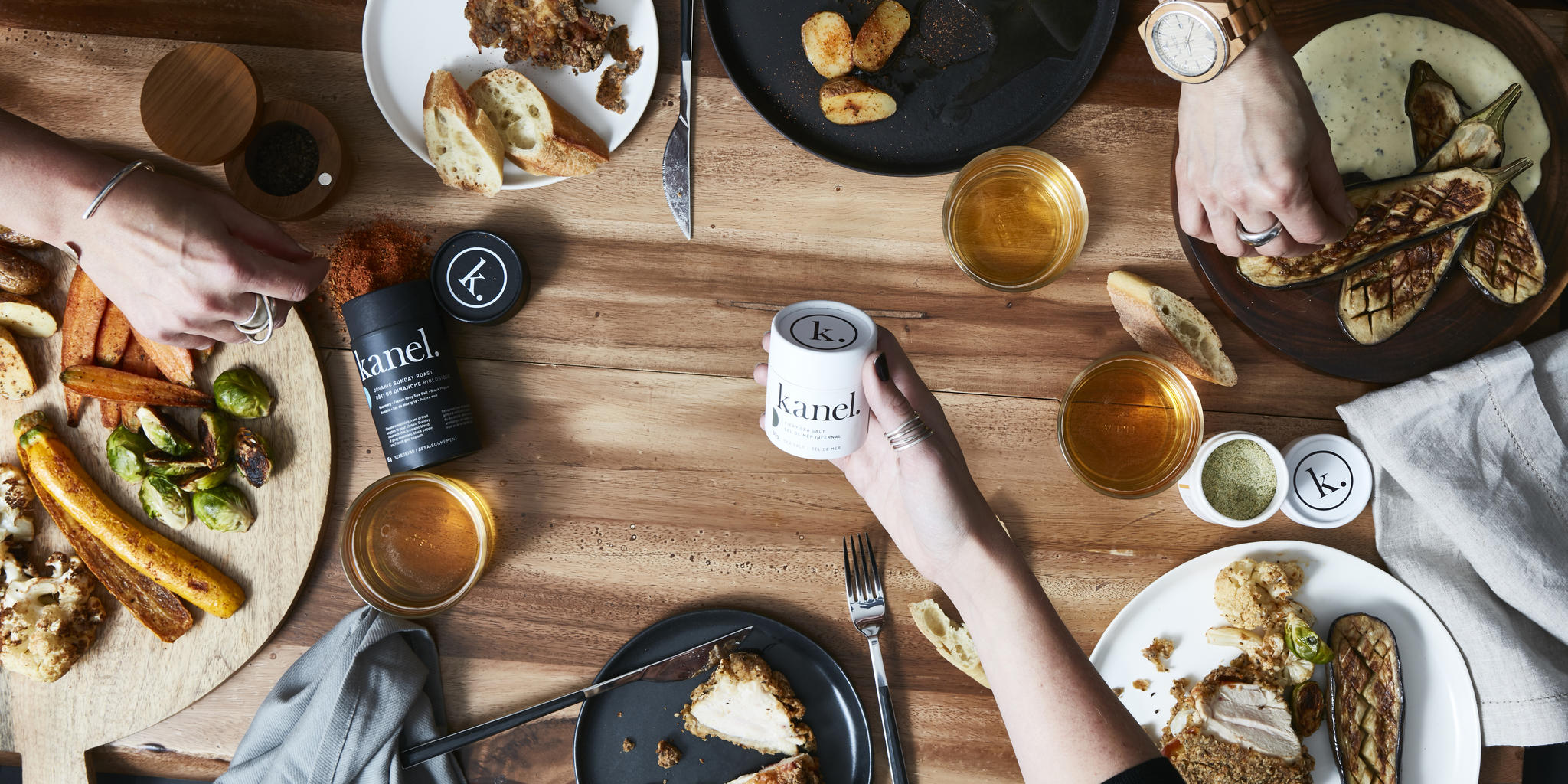 When we were thinking about the packaging and design, we wanted something that was "display worthy". We didn't want people to hide this away in their cabinet, rather, it should be something you want to have on your counter. We wanted our products to work in any kitchen, regardless of the aesthetic. We also want people to come to your house, see your Kanel spices and ask what they are. We wanted people to feel comfortable sharing the smells right in their own kitchen."
Ease of use as a selling feature
Spices are a commodity product. They can be bought at the supermarket, at the corner store, and at dollar stores. The key to Kanel's success has been their ability to stand out. The unique flavors and blends, coupled with the fact that they're simple to use and unbelievably delicious, make them a fantastic alternative to anyone looking for something a little different.
"We thought the ease of use to use was a big opportunity in this marketplace. People have less and less time. They want to eat healthily, but they don't want to be a chef. We're appealing to a broad market—from chefs and aspiring chefs to parents that don't know what to make at the end of the day. They need something quick, easy, and delicious."
Discovering unexpected markets
Diving into new waters can lead to the unexpected. Melanie and her team came to realize that they need to adapt the brand to the gifting market. Their product makes an ideal gift for those who don't know exactly what to give. "Everybody likes cooking, food is on-trend, and things like this have broad mass appeal. That's becoming a big part of our business."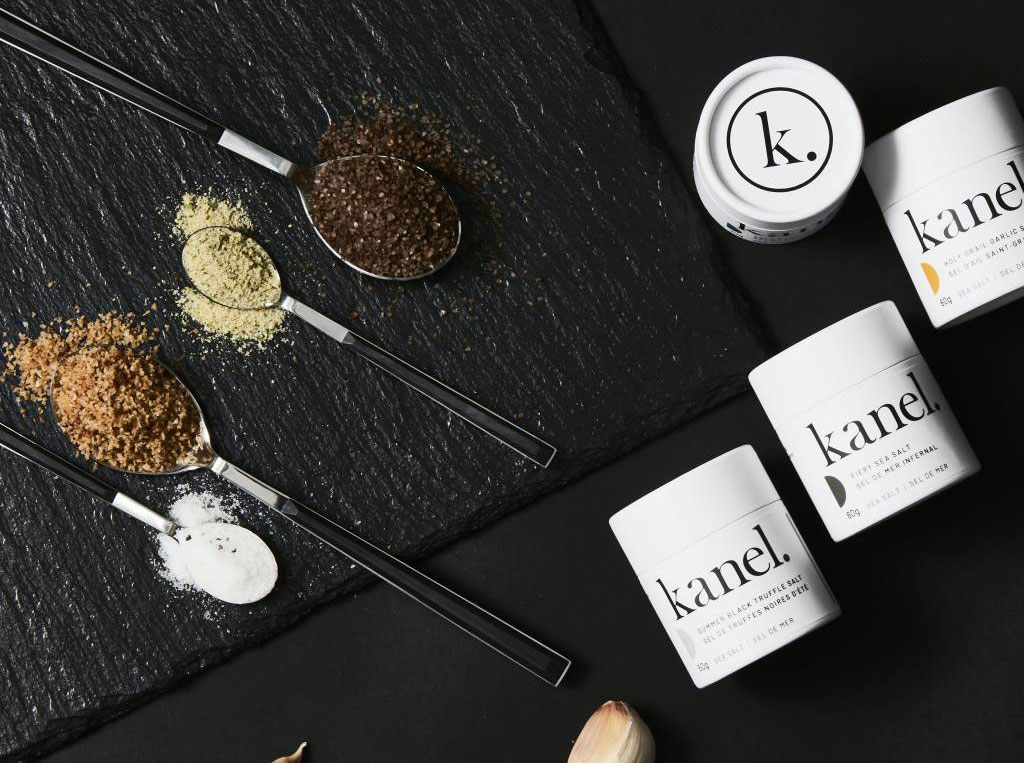 Startup life
Melanie and her founders are bootstrapping the project and doing it full-time. "We have to wear a lot of hats—we're running the finance, we're running the accounting, we're running the construction—we're doing everything. It's a lot of pressure but it's really exciting and we work well together so we're holding hands and diving in."
Agility is the name of their game, and a requirement for any small business looking to grow. "We're always asking for feedback and are trying to work with our team to see what's working, what's not, and respond to those opportunities as quickly as possible. That's one of the luxuries of being a startup, we're trying to keep our finger on the pulse of the industry and adapt accordingly."
Kanel spices are available online and at the following location: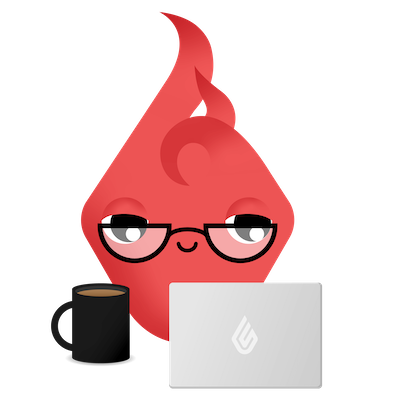 News you care about. Tips you can use.
Everything your business needs to grow, delivered straight to your inbox.