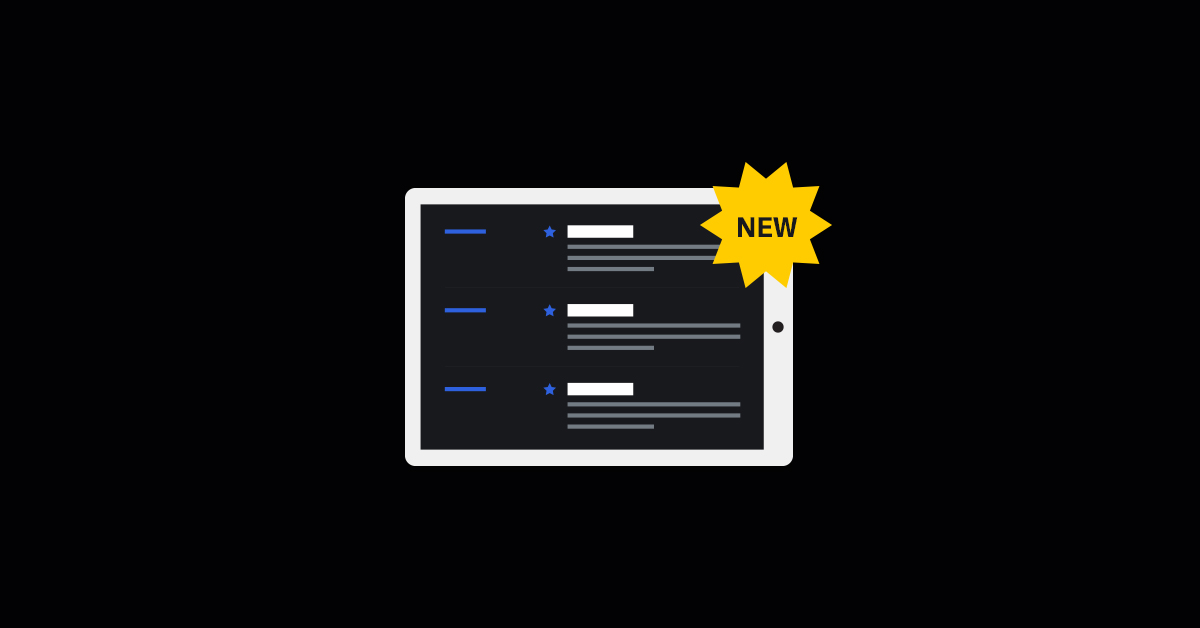 A new app update means hot new features, and the Lightspeed Restaurant team has been hard at work whipping up 5 new ones! So let's get to it.
Fire course
Fire courses to the kitchen, one at a time.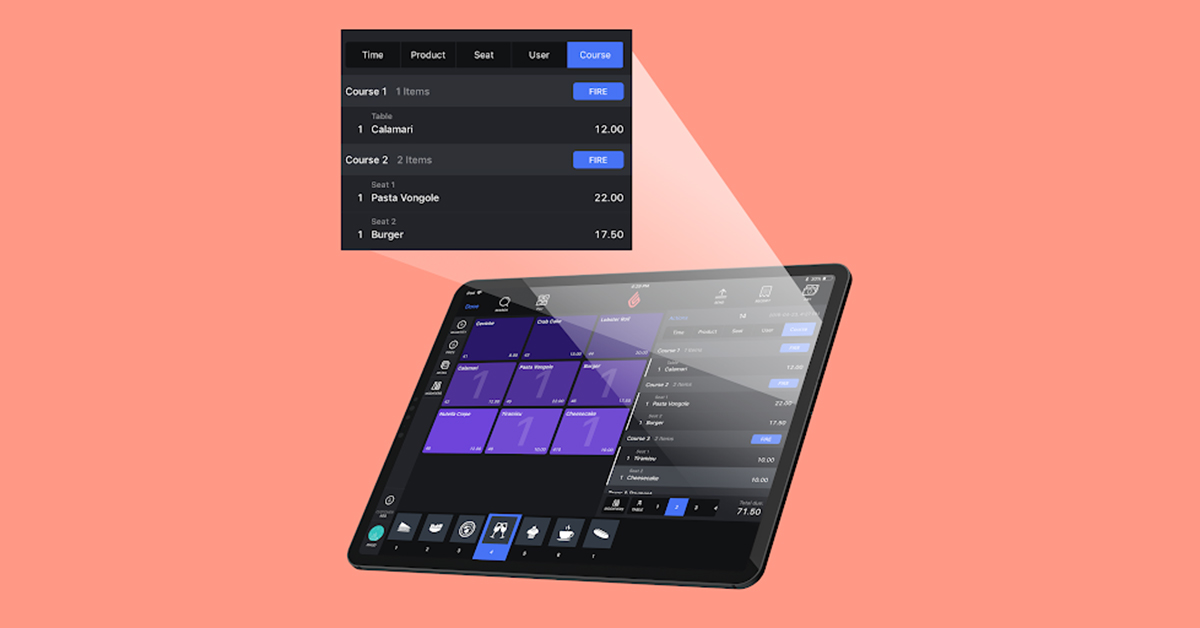 Delays and cold food issues are actually some of the most common causes of negative online reviews.
Some delays are caused by a higher-than-expected volume of diners, some are caused because of a shortage of staff, but often it's because of poor communication between waitstaff and the kitchen. That's where Fire Course comes in.
Instead of just sending an order to the kitchen and letting your cooks manage what goes out and when, have your wait staff also fire courses as needed. That single little 'Fire' button has a huge impact on the way your staff communicates with each other. Waiters no longer have to go back and forth from table to kitchen to advise your cooks when to start preparing the next course, they can just tap that button on the spot. Cooks no longer have to manually manage long order tickets and remember what's next because the POS will automatically send them that information.
Your waitstaff knows best when a table is ready for the next round of food—give them the control to communicate to the kitchen when to fire up the grill at the right time.
You can find the 'Fire' button within the course sorting options in the order screen. To include added detail, fire the course to the kitchen and include the course items on the chit by enabling the fire course option on your kitchen template.
For more details and instructions, refer to our
help article
. Fire course is now available worldwide.
Multiple menus
Your menu is your masterpiece—set it up and modify it how you see fit.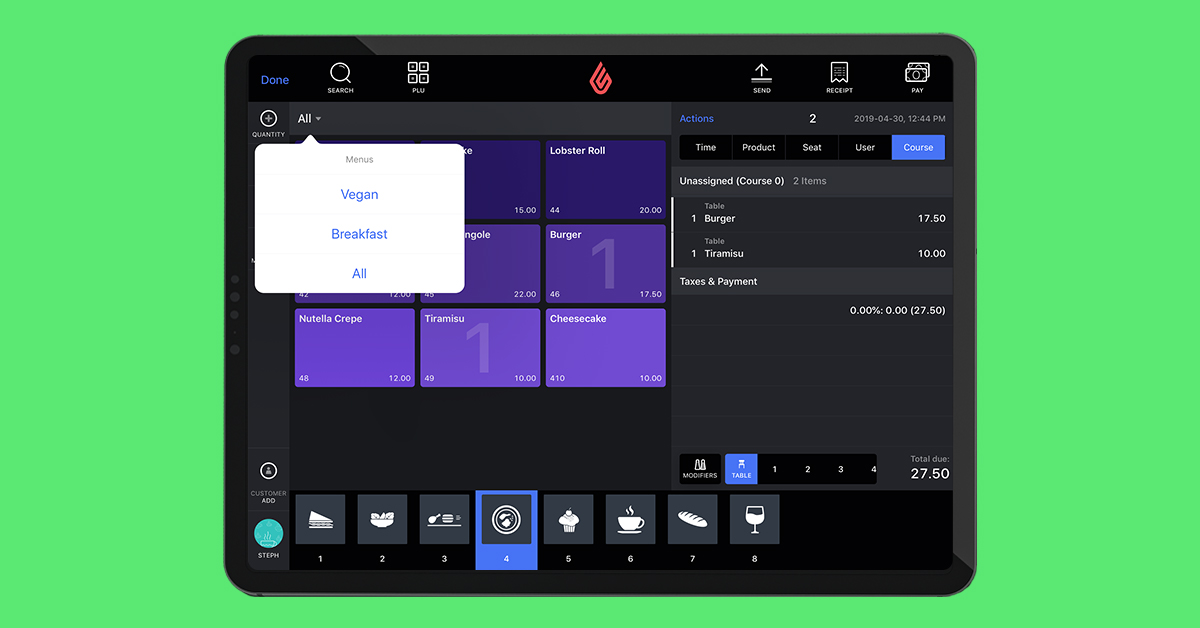 Breakfast, lunch, dinner, dessert, happy hour, vegan, you name it! The new multiple menus feature allows you to create specialized menus made up of different categories.
What's new:
Set specific menus per device and floor plan

'Last-used' menu memory per user

Group different categories together into one menu
Toggle between menus at the top of the order screen in your Restaurant POS to access specific menus on certain devices or in certain sections of your establishment. Menu selection in the app is remembered based on user, meaning two servers working on the same device will see their preferred menu when they log in.
Note: Once you've configured a specific menu, only the products linked to that menu will show up in the Restaurant app. Meaning, you physically cannot enter an item onto an order that is not assigned to a menu. However, items from different menus can be added onto the same order. So naturally, it is best practice to always keep an 'ALL' menu that includes every single one of your categories. That way, you can always refer back to it for additional items.
For more details and instructions on how to create multiple menus and assign them to different floors or devices, refer to our
help article
. The multiple menu feature is now available worldwide.
Tipping and sign on screen
Leave a lasting impression with an easy way to settle the check.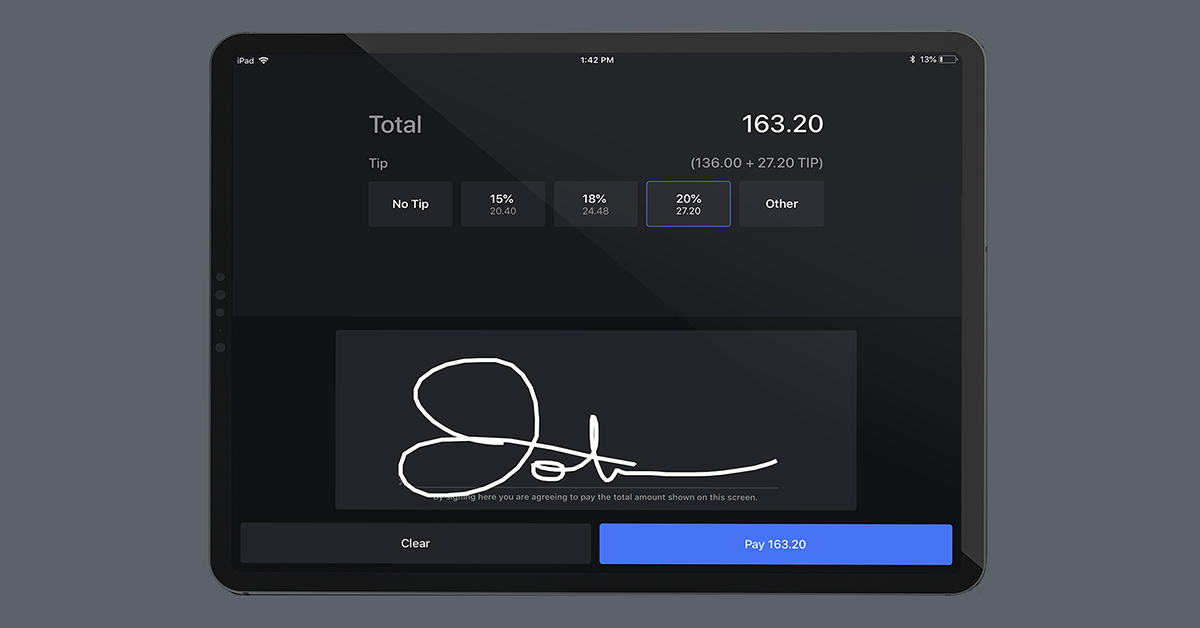 Today, settling a check is tedious and time-consuming.
First, you have to print the receipt and bring it to your customer. They'll let you know how they want to pay, and if it's a card you'll have to circle back to your terminal. But that's not it. You then have to print another receipt for your client where they can write down the tip. Once that's done, you need to run back to your POS to enter it and finally close the sale. What if all that could all get done in one trip to the table instead?
The latest Lightspeed Restaurant update includes the new tip and sign on-screen feature. This significantly decreases the number of steps to complete payment by taking the iPad tableside and let guests pay on-the-spot, add it to their tab, or even charge their room in hotel restaurants. Once the charge is complete, diners can select tip from suggested options you can configure in the back office, or enter their own amount.
You work hard on delivering a memorable experience and exceptional food to your customers. Extend that effort all the way to the very end of the meal by helping your diners pay quickly and fuss-free.
For more details and instructions, refer to our
help article
. Tip and sign on screen is now available in the US for restaurants and worldwide for hotel restaurants.
Updated receipt view
Find the information you need at a glance.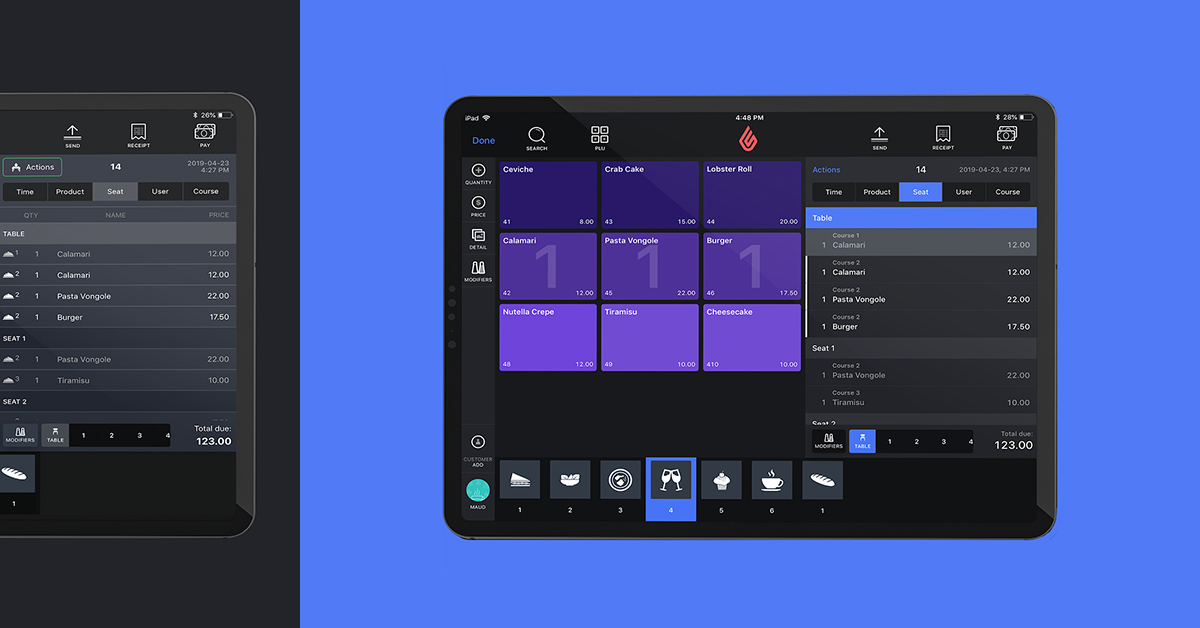 The receipt view is full of information. So, we restyled it and made some technical changes to make it easier to understand. Above, you'll find a side-by-side comparison of the old receipt view vs. the new.
Here's what changed:
Waiters need to know at a glance what's going on with their table. We replaced icons with text to make it visually clear what actions took place and what changes were made.

We updated the interface with a clear hierarchy of information.
The updated receipt view is now available worldwide.
Partial printing
Stagger your send-offs to the kitchen and print only what's immediately needed.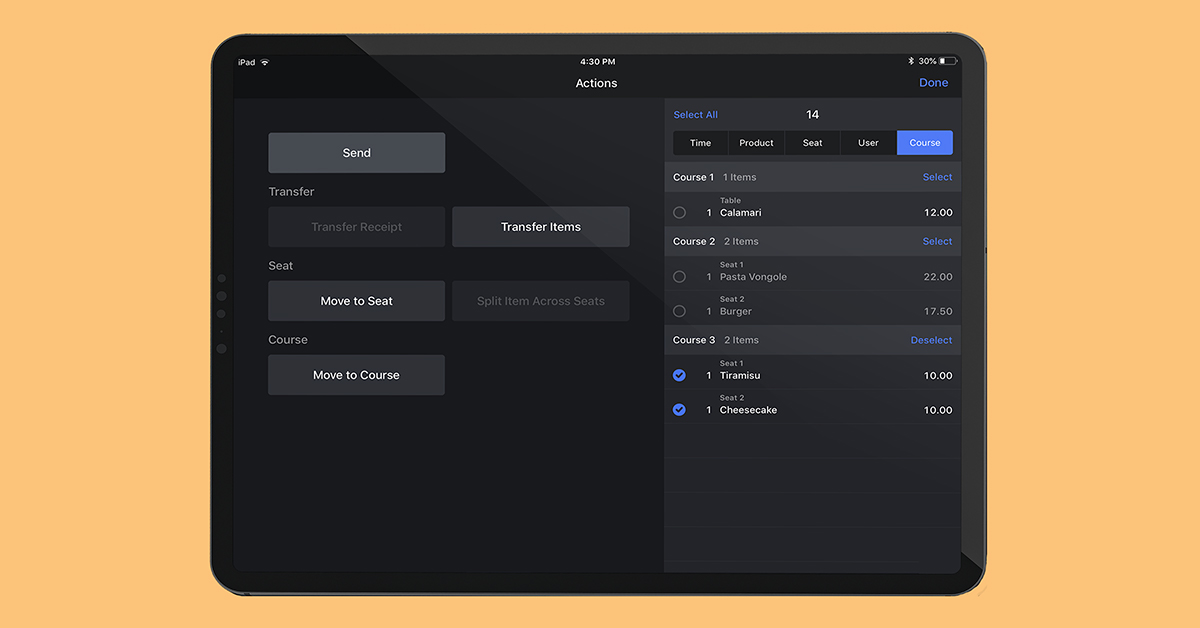 The new partial printing feature gives your waitstaff the control over which items are sent when and where. Simply punch the items in right away, but instead of sending the full order to the kitchen, stagger your send-offs with specific items. The kitchen will then receive a chit strictly with what's immediately required.
For more details and instructions, refer to our
help article
. Partial printing is now available worldwide.
New features coming soon
We've got a lot of new features and updates on the map, and we would love to get your feedback before they go live. If you are interested in becoming a beta tester for future Lightspeed Restaurant features and updates, please sign up here. Not only will you have early, exclusive access to new updates, but you will also get the opportunity to shape the product through your feedback—how cool is that?
Let us know what you think of these new features. And stay tuned, because there's a lot more on the way for Lightspeed Restaurant!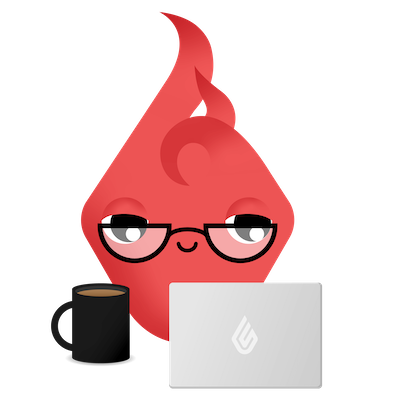 News you care about. Tips you can use.
Everything your business needs to grow, delivered straight to your inbox.